We will give an honest BIGtoken review and complete guide here. So, don't waste your time and check this well-written article to know our verdict if its legit or not.
Yet another money making app for our beer, let's introduce BIGtoken. This application is becoming very popular nowadays.
And that's because of its ease of use and promising clean looking UI to share data and earn some cash.
Before I answer that question, I will give an introduction first about What and Who BIGtoken is.
---
What is BIGtoken?
---
BIGtoken is a data marketplace where people can earn money from data they share.
It is also the first consumer-managed data marketplace with a transparent platform. You and only you own it and manage what you share and earn from that.
And that is something very promising nowadays in which privacy is of utmost importance.
BIG is very transparent about your data, they provide choices for people what they could share and earn compensation for that. YOU OWN IT.
The blockchain platform also provides media companies and advertisers access to those transparent data from verified consumers to reach out and serve audiences better.
---
Who owns BIGtoken?
---
SRAX (Nasdaq: SRAX) is the one who built BIGtoken.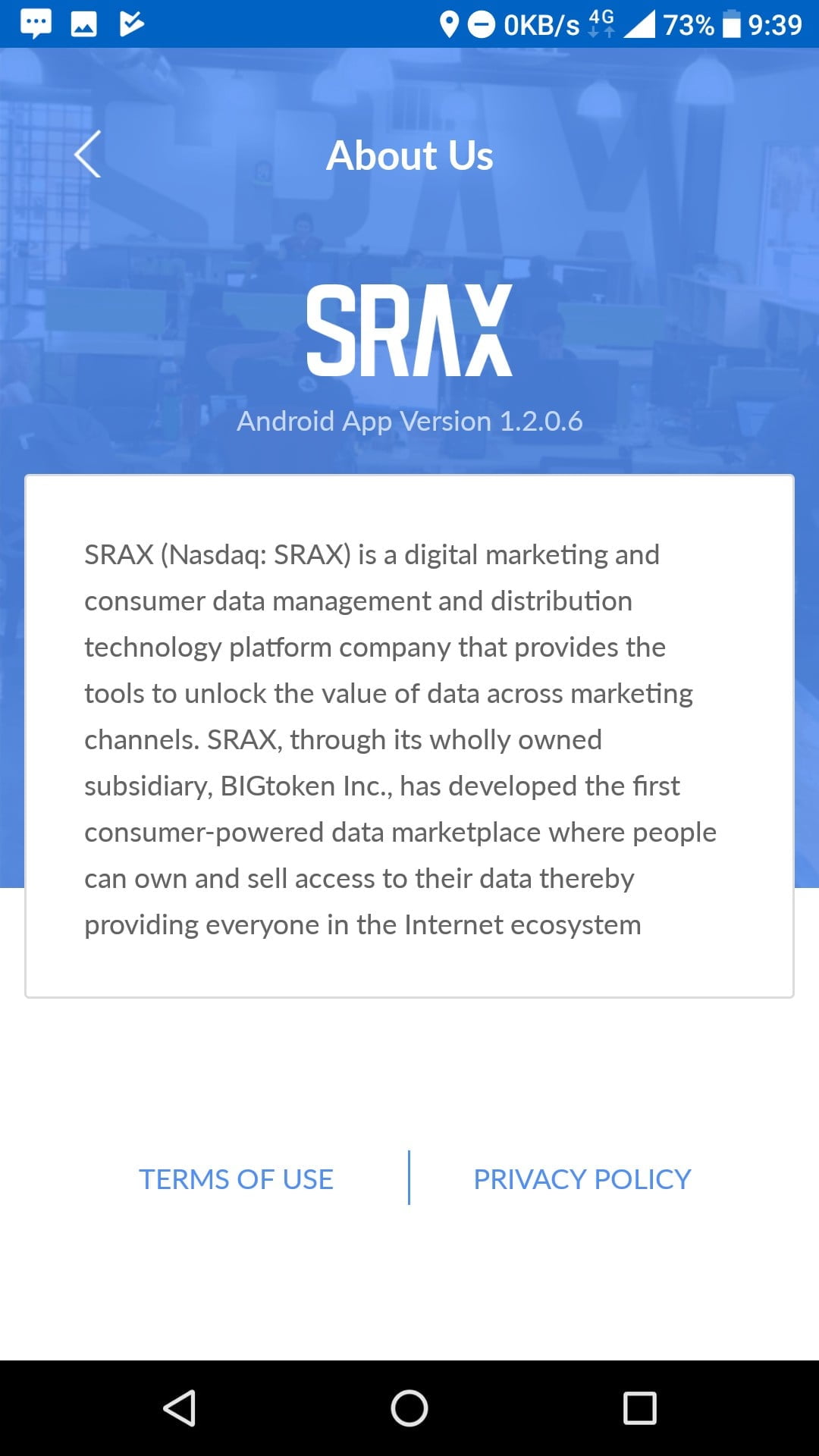 SRAX is a digital marketing and consumer data management company that has been serving the digital advertising and consumer data industries since 2010. Additionally, you can see on this page their corporate timeline and more information about them.
So can you earn money here? The answer to that is, yes you can earn cash using the platform by answering surveys and sharing your data. However, if you want to learn more about the platform and SRAX check this official about page of BIGtoken.
---
How Does BIGtoken Works?
---
Here's a video for a quick explanation on how BIGtoken works. The first app allowing you to own and earn from your data.
Interesting, but… I have trust issues, is that legit?
In this post, we will tackle every aspect of using BIGtoken and the issues and beauty alongside it. To answer your question for now, long story short, that is something you have to decide for yourself as the platform is still fresh and the BIGtoken idea is founded in October 2017.
But I can say though that the platform is very promising and have some negative and positive feedback's from the community.
No worries, I will help you decide with this review and also help you use BIGtoken with a very complete guide of app setup and installation to app usage.
The Very Complete BIGtoken Installation Guide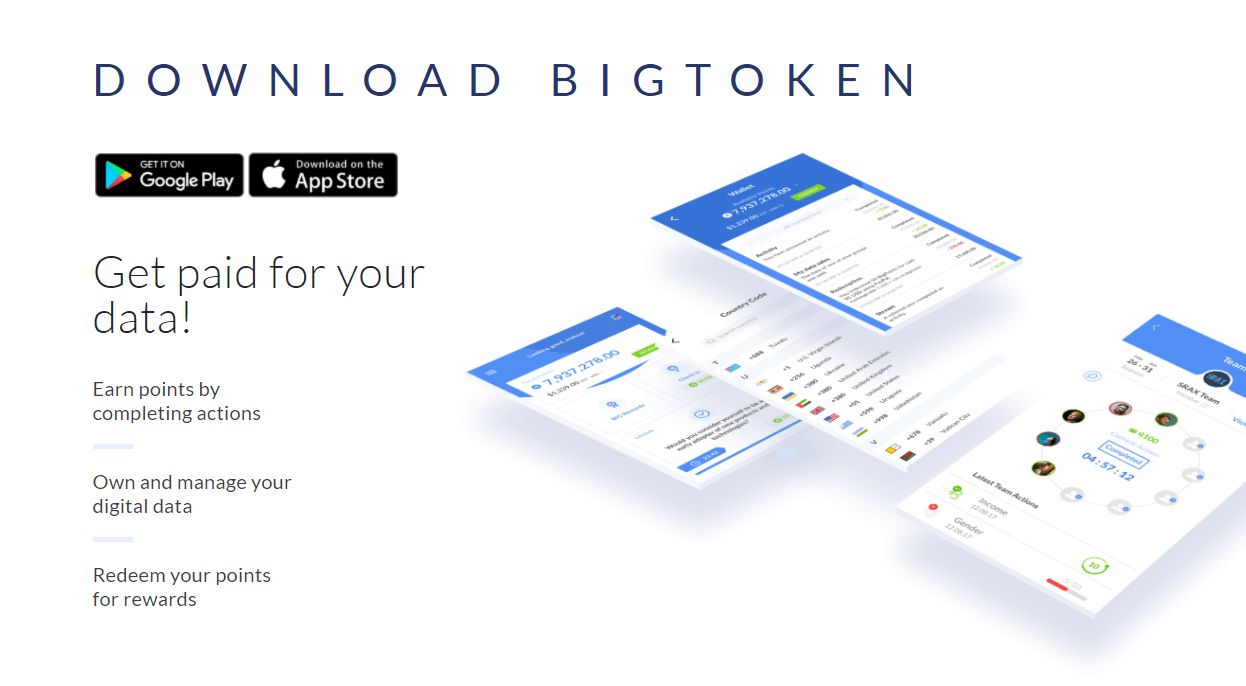 Listed down here is the most complete BIGtoken Guide from user setup and installation to app usage.
Total Time: 28 minutes
Step 1: Install BIGtoken application from the play store
Step 2: Open the BIGtoken app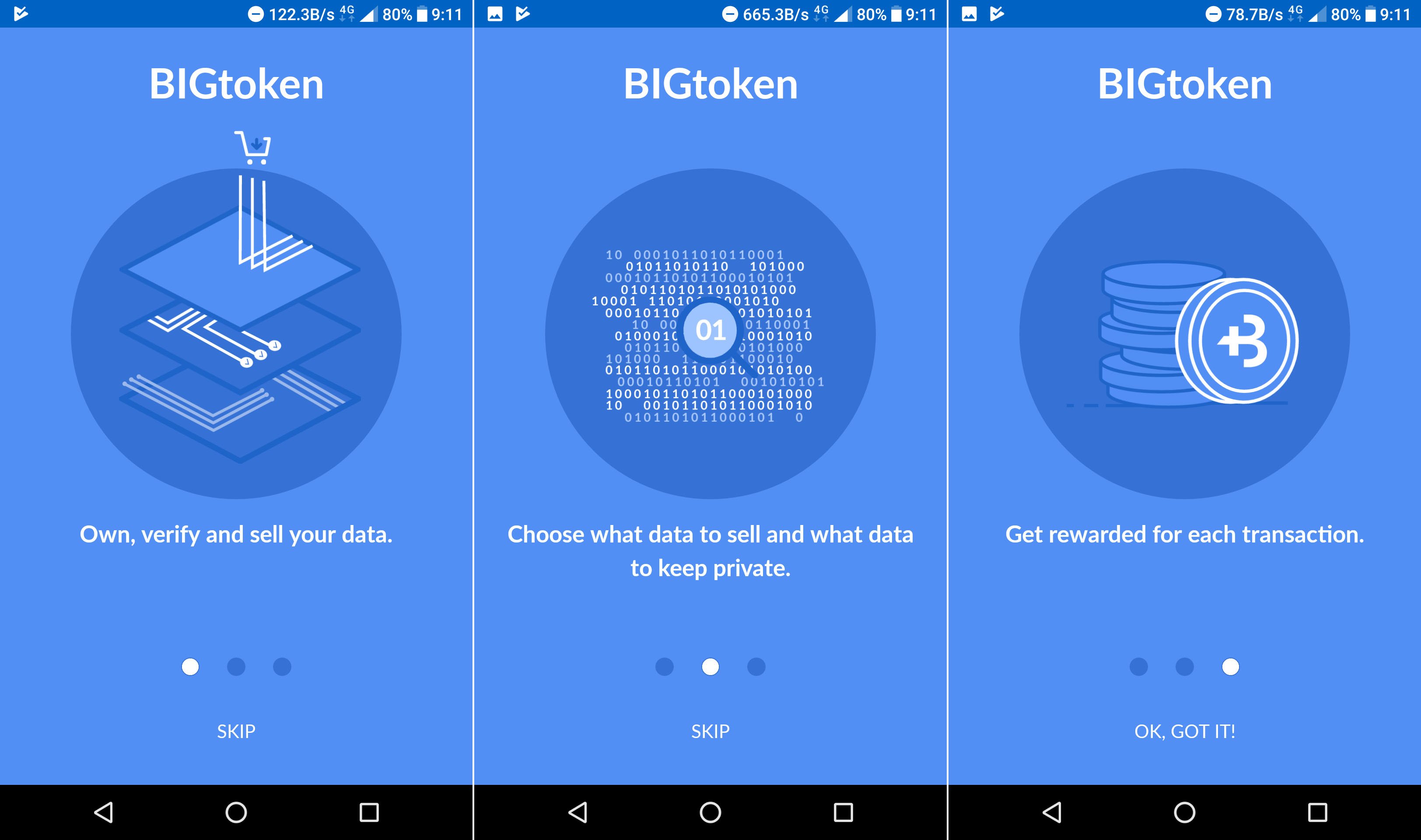 After opening the BIGtoken app, you just need to swipe these images to the right for you to start creating your BIGtoken profile.
App introduction:
✔ Own, verify, and sell your data.
✔ Choose what data to sell and what data to keep private
✔ Get rewarded for each transaction.
Step 3: Fill up the registration form (my referral code here if you have none to add)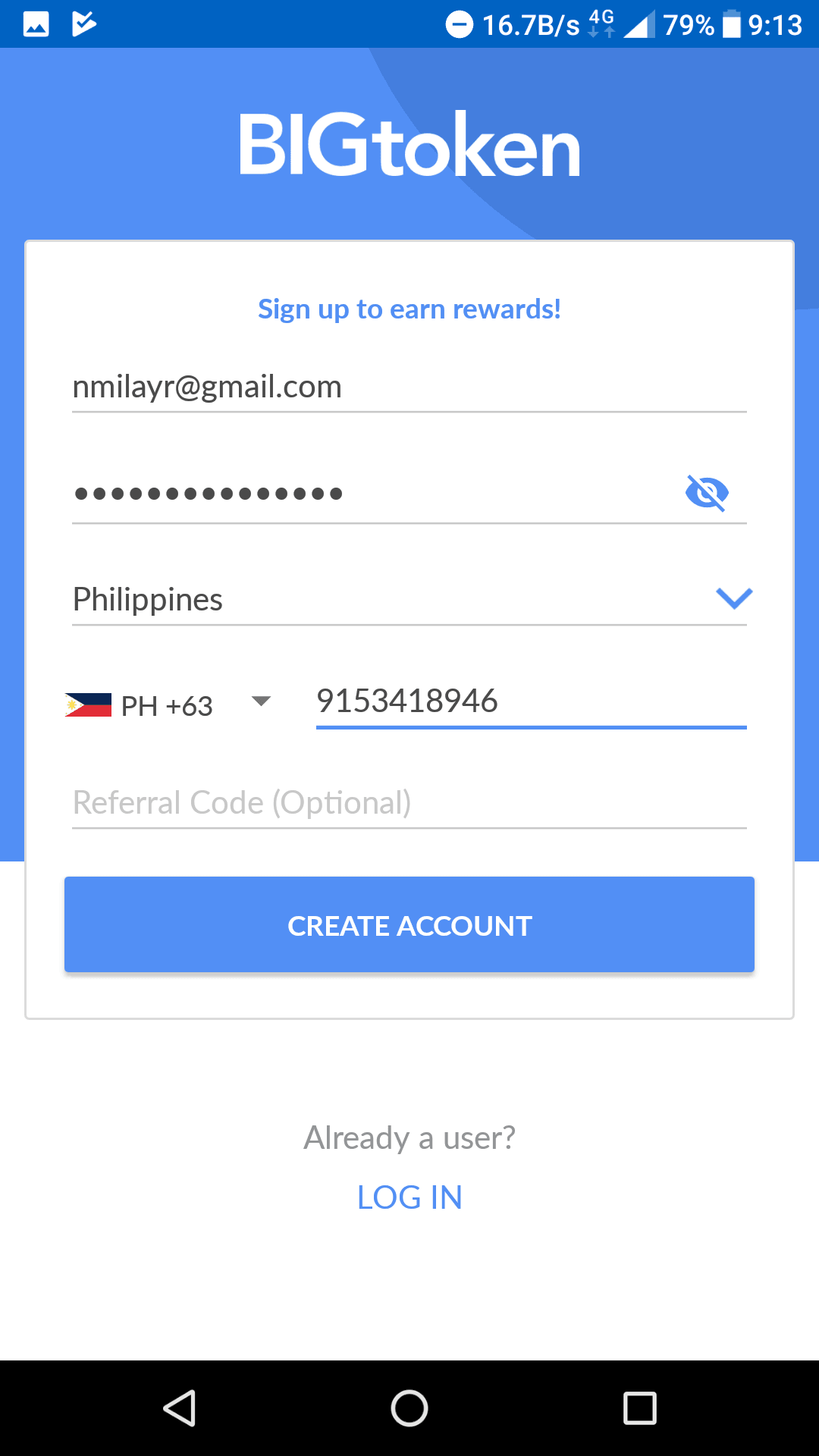 Enter your email address and your desired password (it is advisable to create an alphanumeric with special characters for maximum security), select your country and enter your mobile number. If you want to enter someone's referral code, enter it on the referral code field.
A6CU7GJ – here is my referral code if you have none to add there.
Step 4: BIGtoken welcome page will appear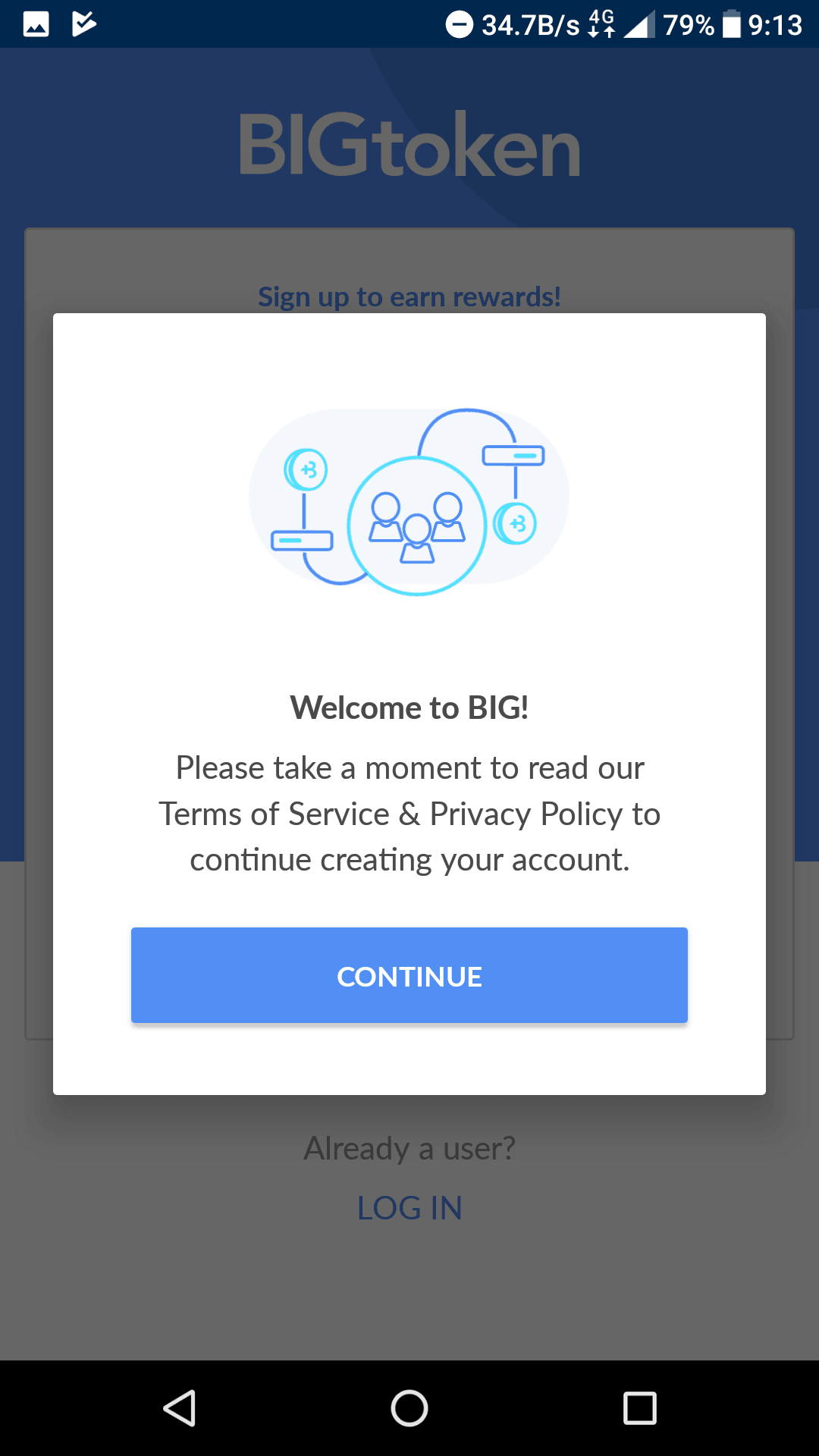 After filling up the registration form the BIGtoken welcome page will appear telling you to read their Terms of Service and Privacy Policy. Afterward, press on the continue button for the next step.
Step 5: Read BIGtoken Terms of Service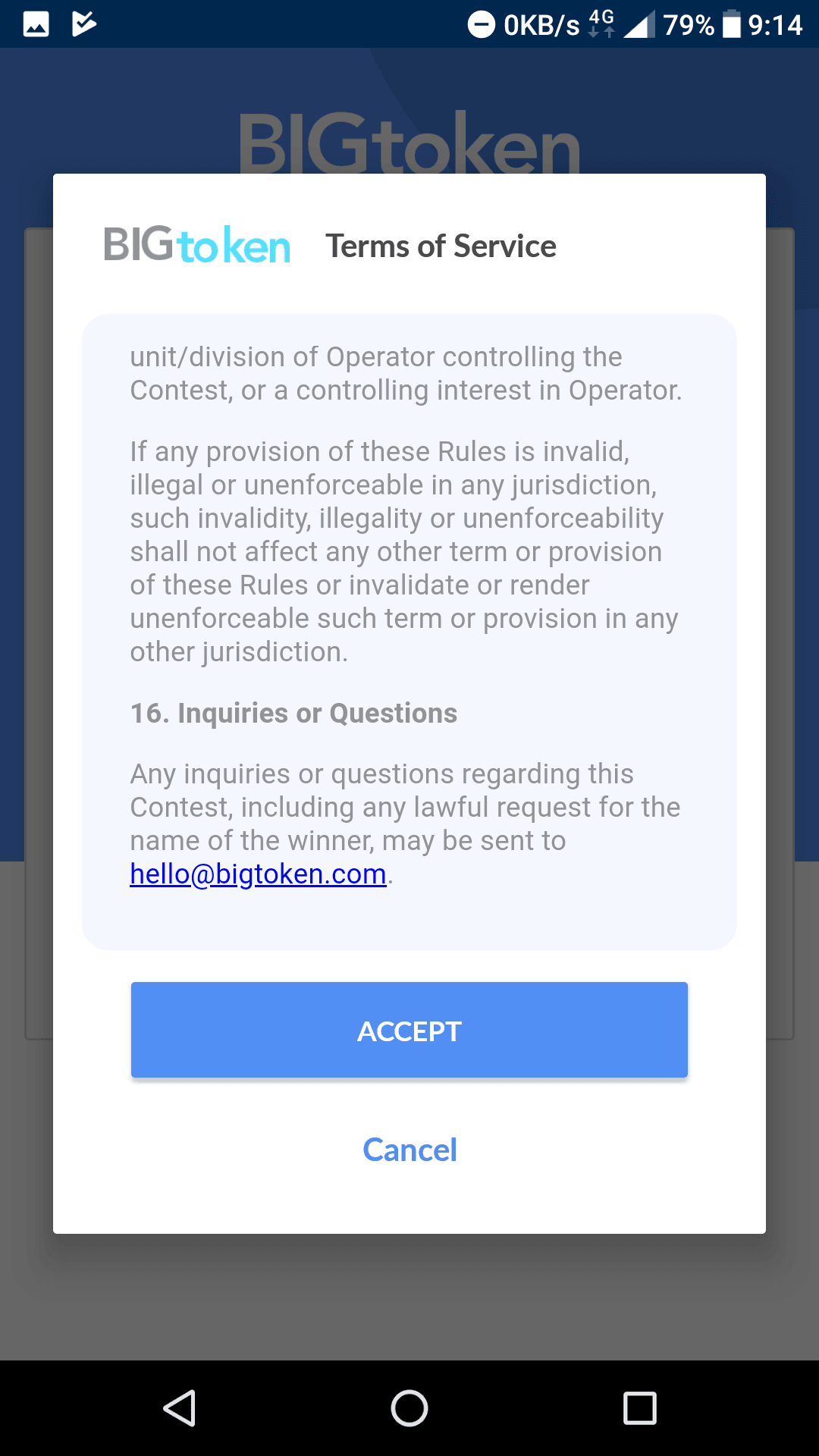 Read the BIGtoken Terms of Service carefully, if you have any concerns you can contact BIGtoken on the email they have provided ( hello@bigtoken.com ). As you read the Terms and have reached the bottom page, the accept button will now become clickable. Press accept for the next step.
Step 6: Read the BIGtoken privacy policy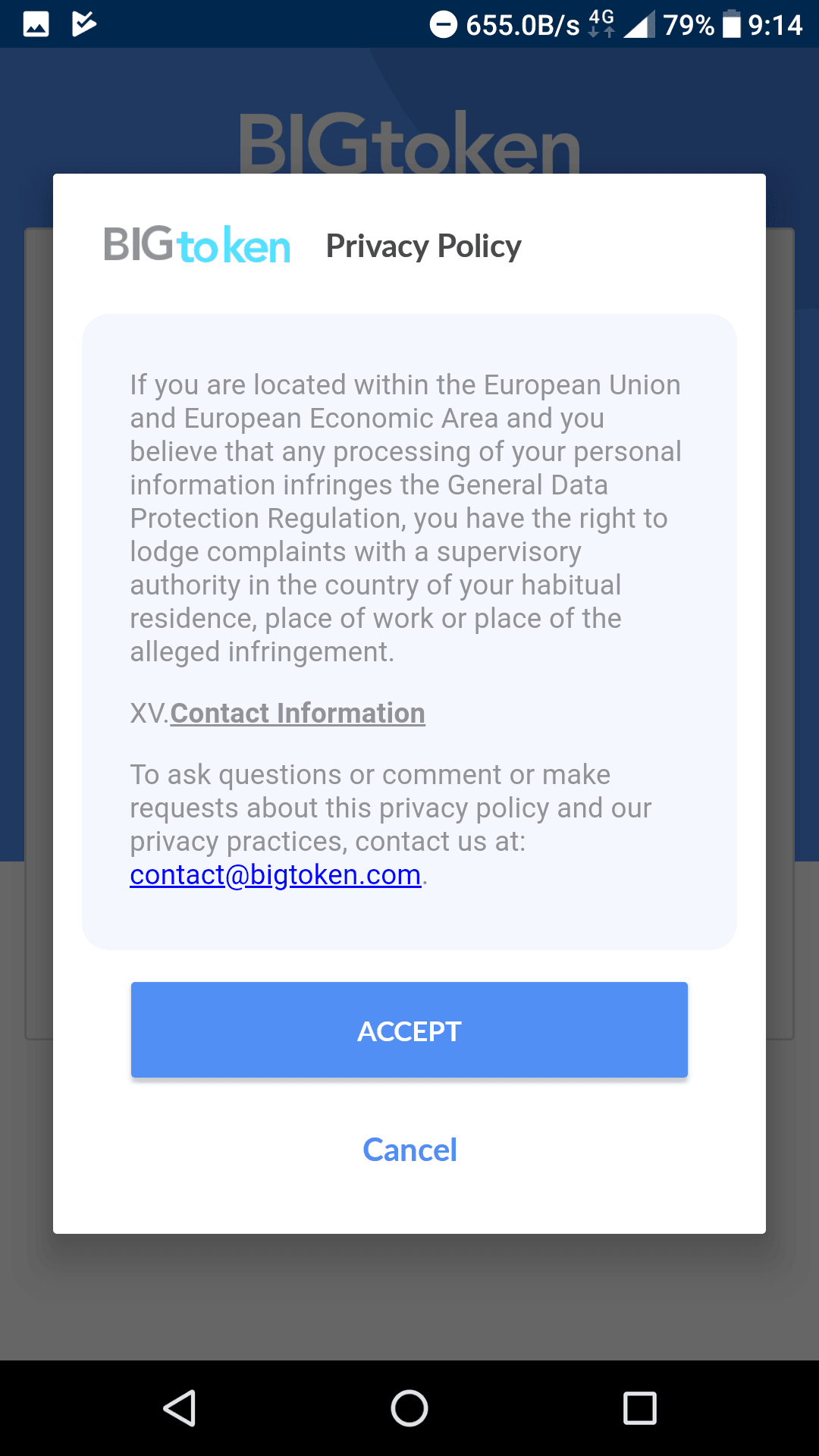 To know how BIGtoken handles your privacy, like the Terms of Service, you must read the BIGtoken privacy policy carefully. They have provided a different email contact here for any privacy policy and privacy practices related concerns ( contact@bigtoken.com ). After reading the policy you can now press accept to finish your BIGtoken account registration.
Step 7: You have created your BIGtoken account, turn on monetization?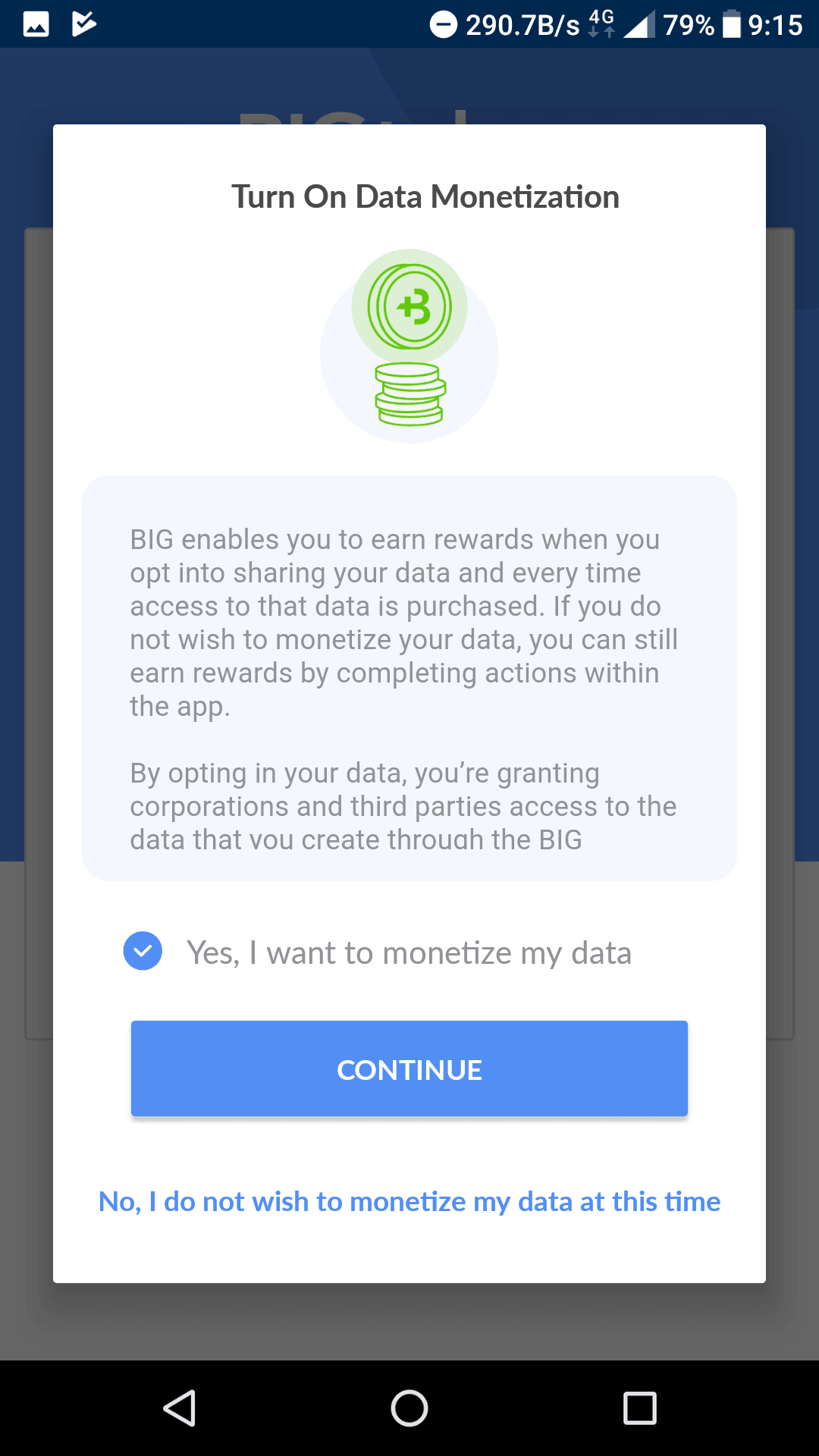 After accepting their terms of service and privacy policy, you now have the option to monetize your data by opting into their monetization program. You can opt-in now or do it later in your BIGtoken settings. View the image below to see what turning this setting on means. Press continue or the latter option for the next step.
Step 8: Verify your email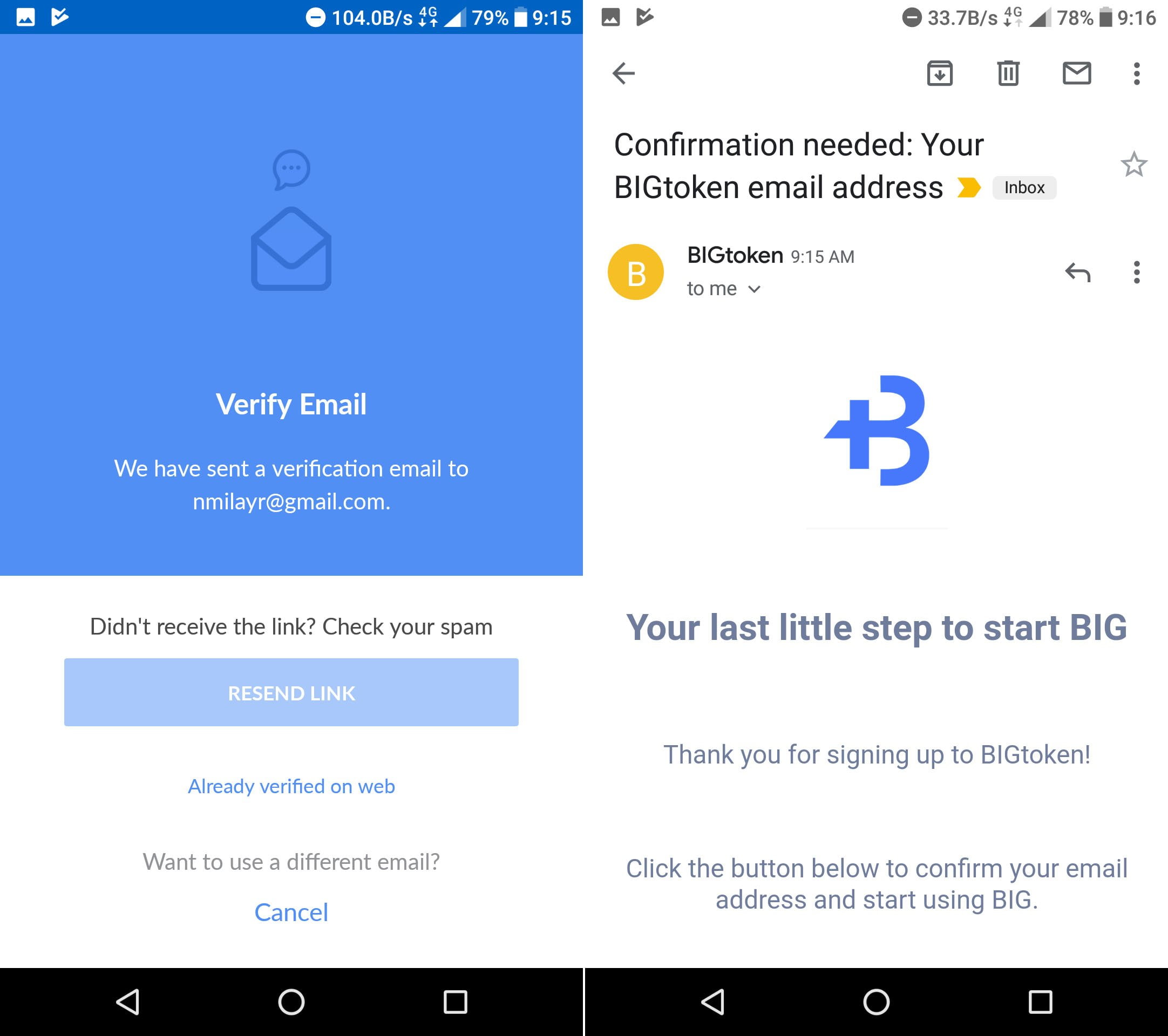 After continuing on the monetization option, you will need to verify your email address in order to use BIGtoken. If you checked your email and you haven't found any email from them. Most likely, it was in your spam folder so check that too. You can also resend confirmation email or change your email address by canceling.
Step 9: Verify your phone number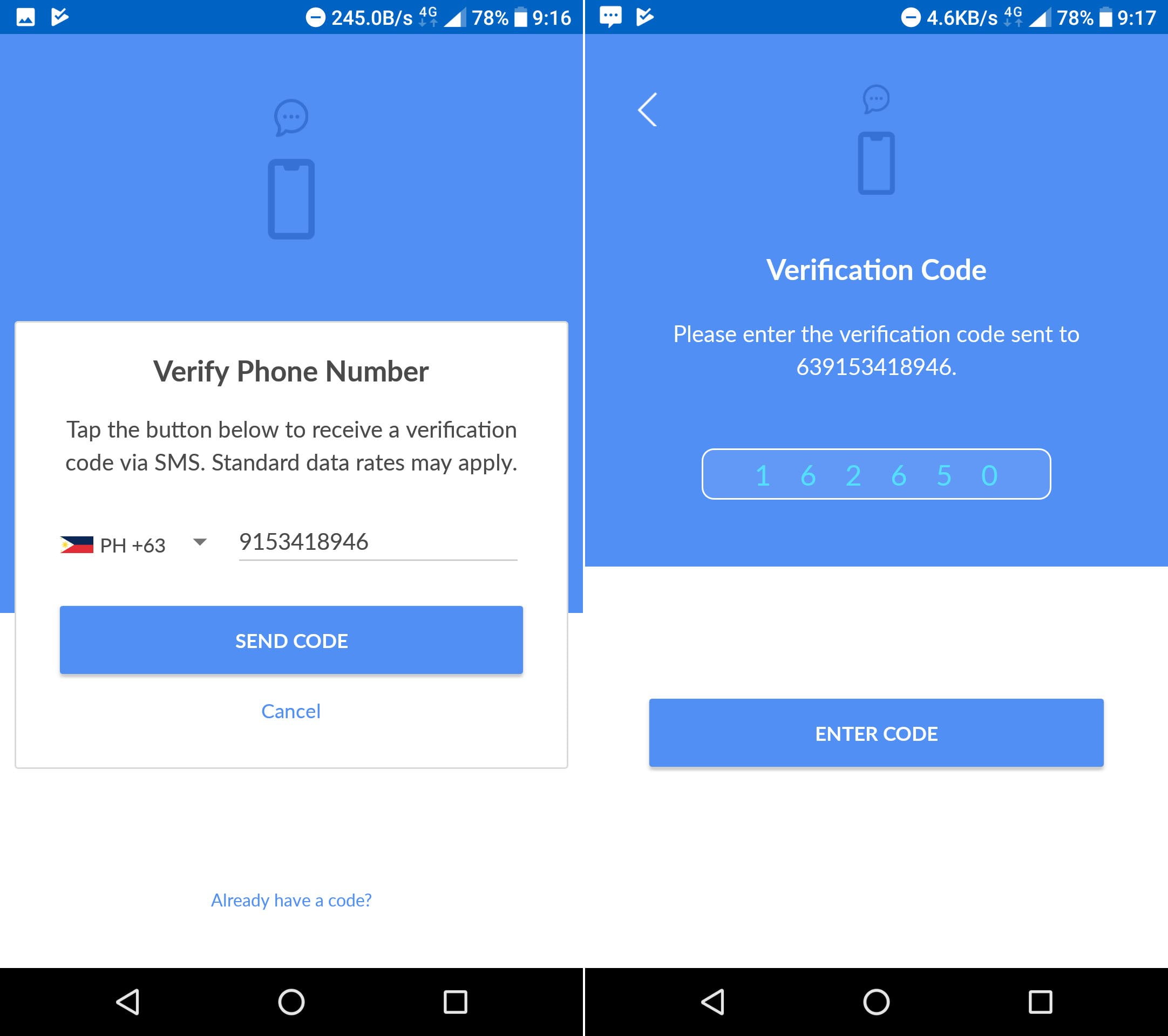 After verifying your email, the next step would be is to verify your phone number. After rechecking your phone number if it is correct, you only need to press the send code button and you will receive a verification code on your phone that you will enter on the next page.
Step 10: Congratulations if you made it this far, you can now use BIGtoken.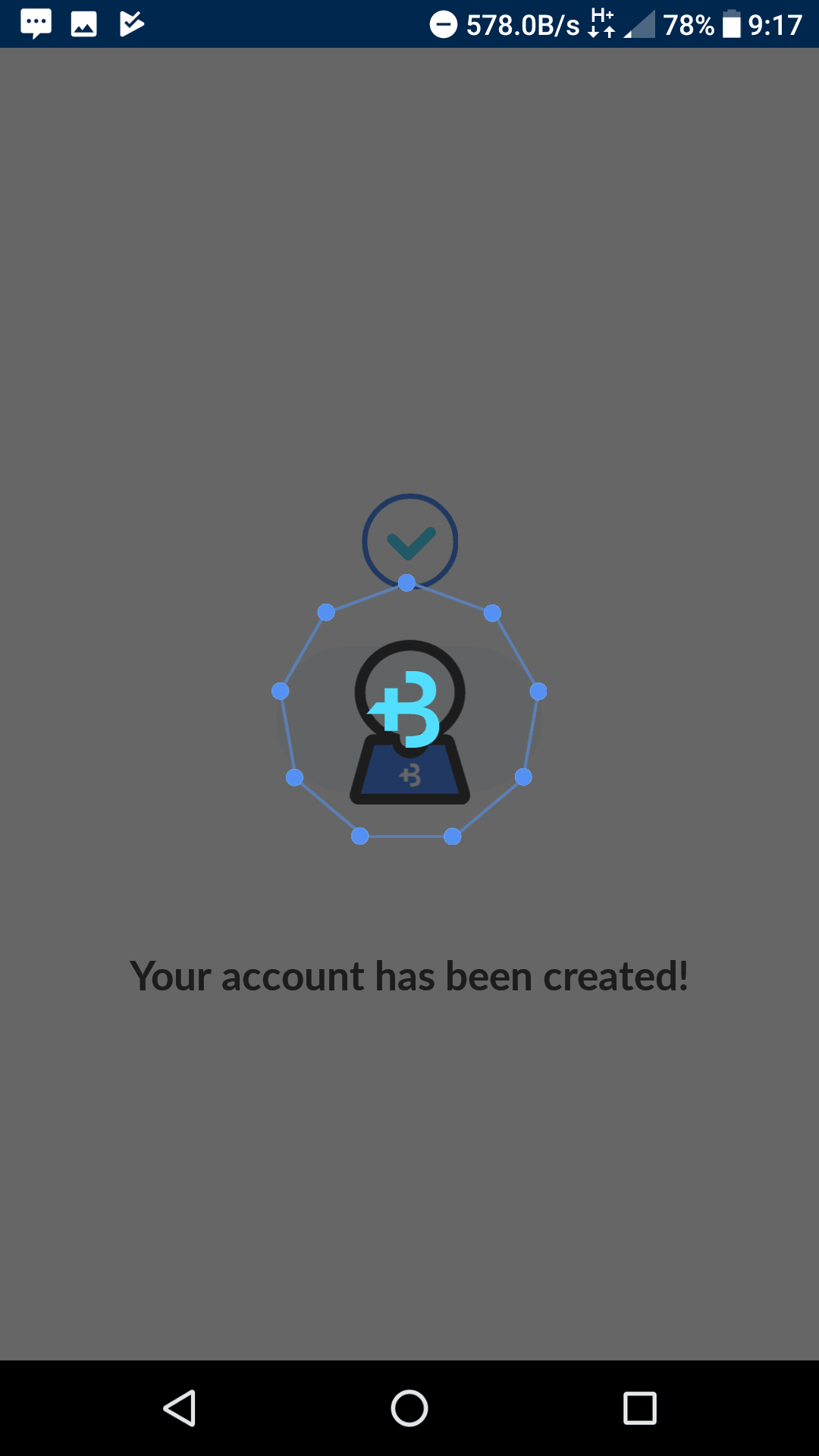 Before continuing, have you encountered any problem? Comment down below or message me on my socials above so I can help. You will be able to see this if all is done well.
Step 11: The BIGtoken wizard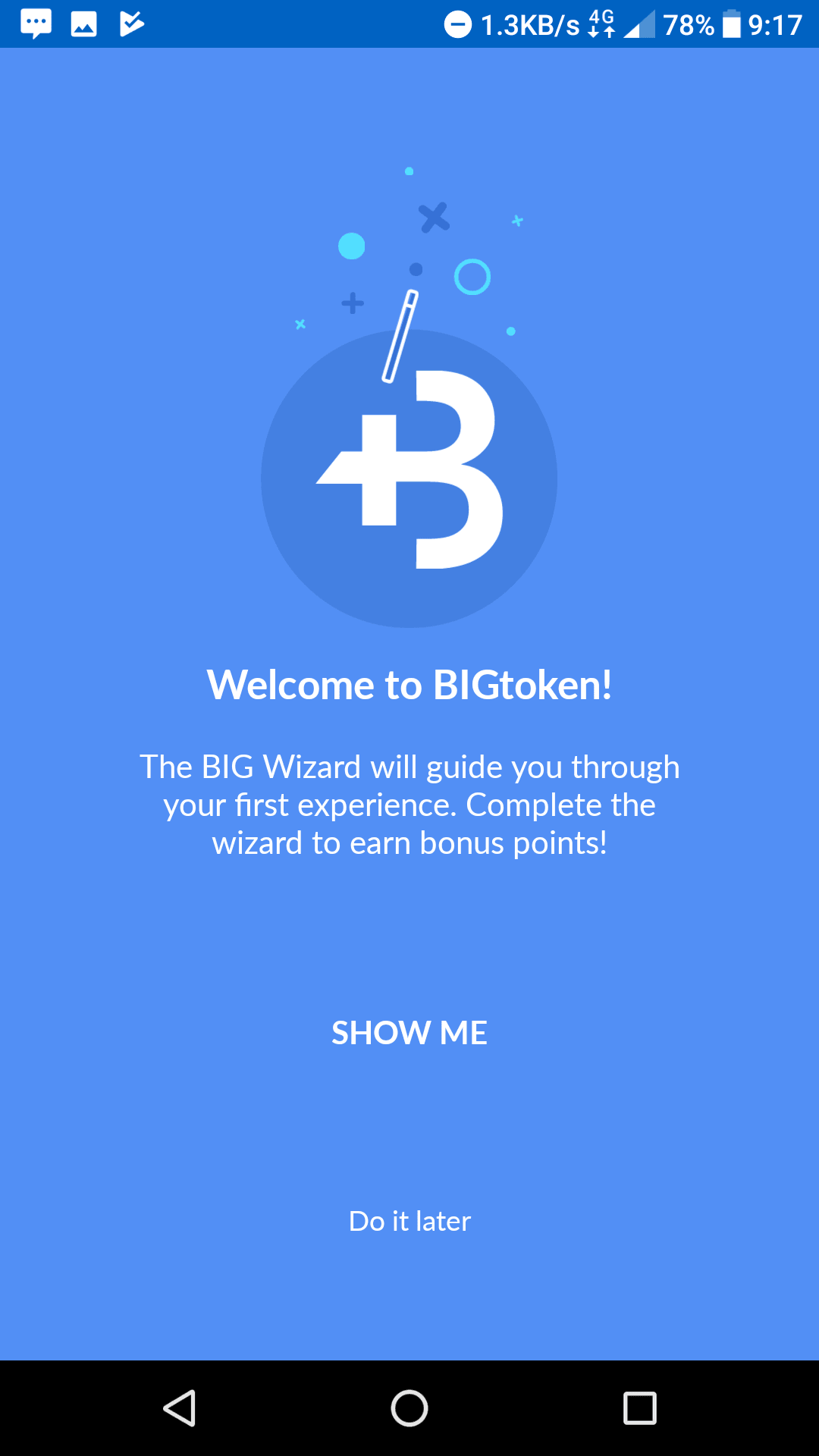 After doing steps 1-10, the BIGtoken wizard will be your new friend. It will guide us on how we can earn money using the app.
Step 12: BIGtoken introduction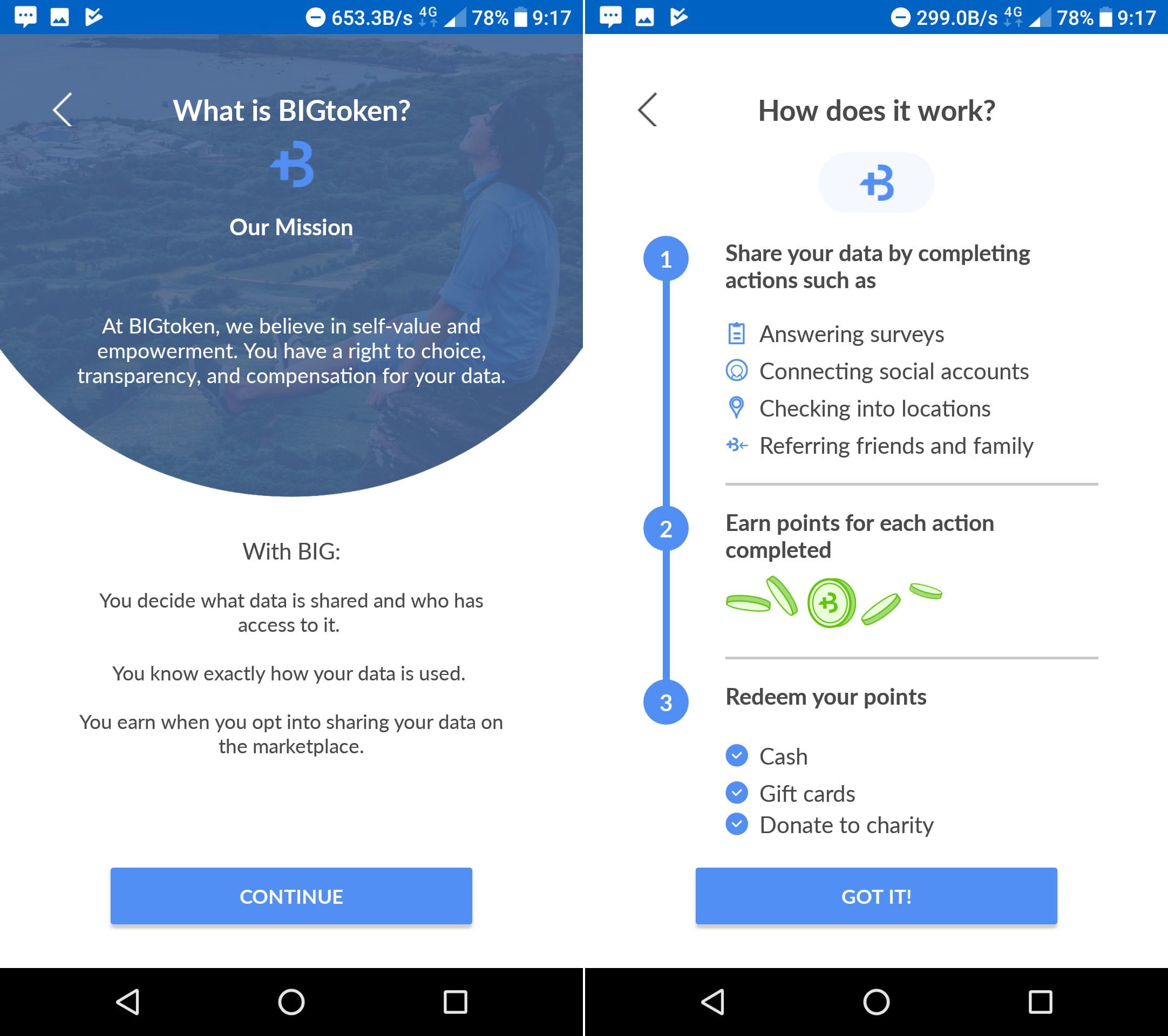 The wizard explains here what BIGtoken is, their mission and how does it work.
Step 13: BIGtoken tutorial guide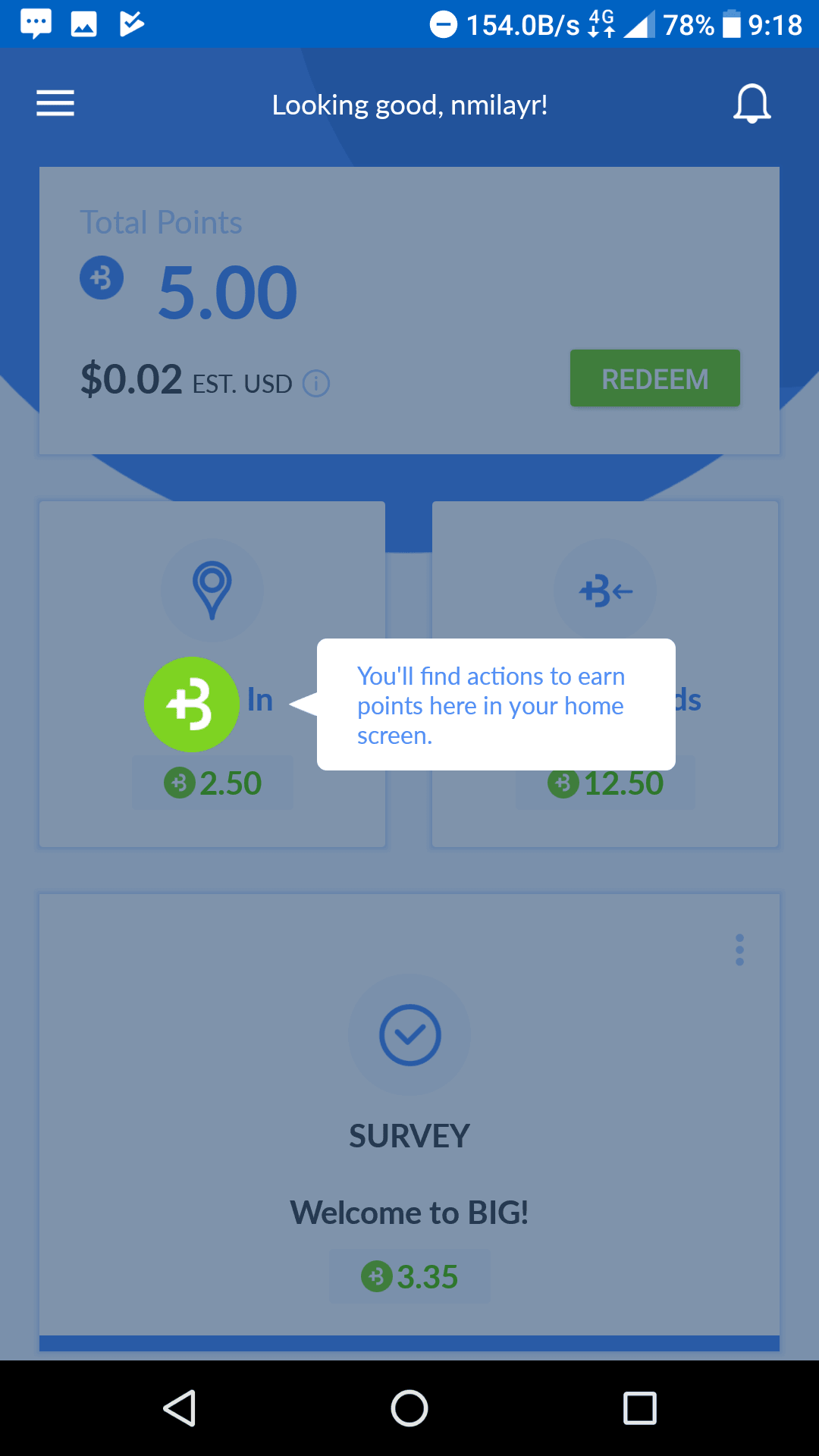 The application will have a step by step guide highlighting each app functionality.
Step 14: Supply answers about yourself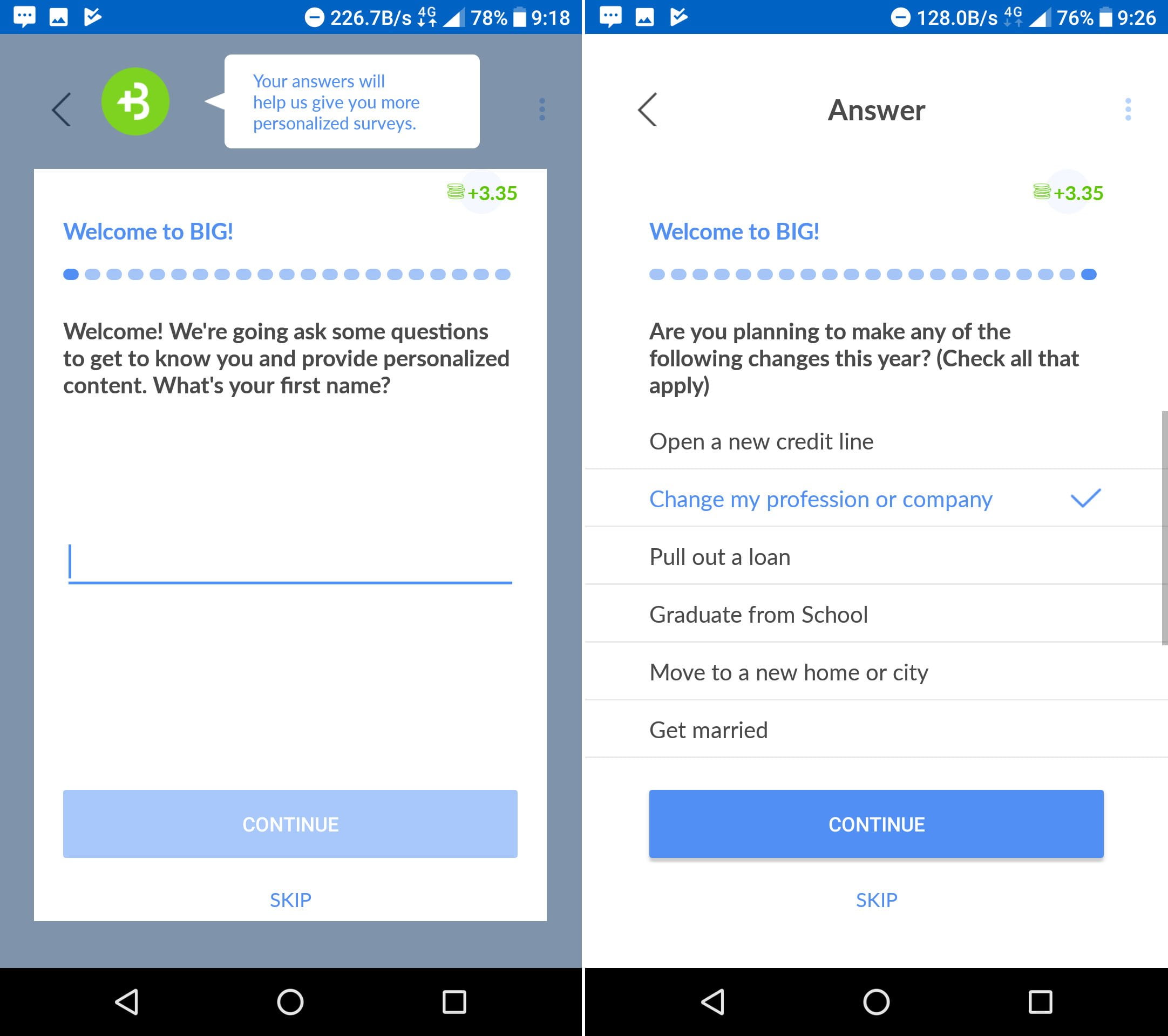 You will then answer some questions about yourself to fully setup the BIGtoken app. Your answers will help BIGtoken to give you more personalized surveys. You will already earn BIGtoken here after finishing the survey.
Step 15: Wrap things up by finishing BIGtoken's getting to know you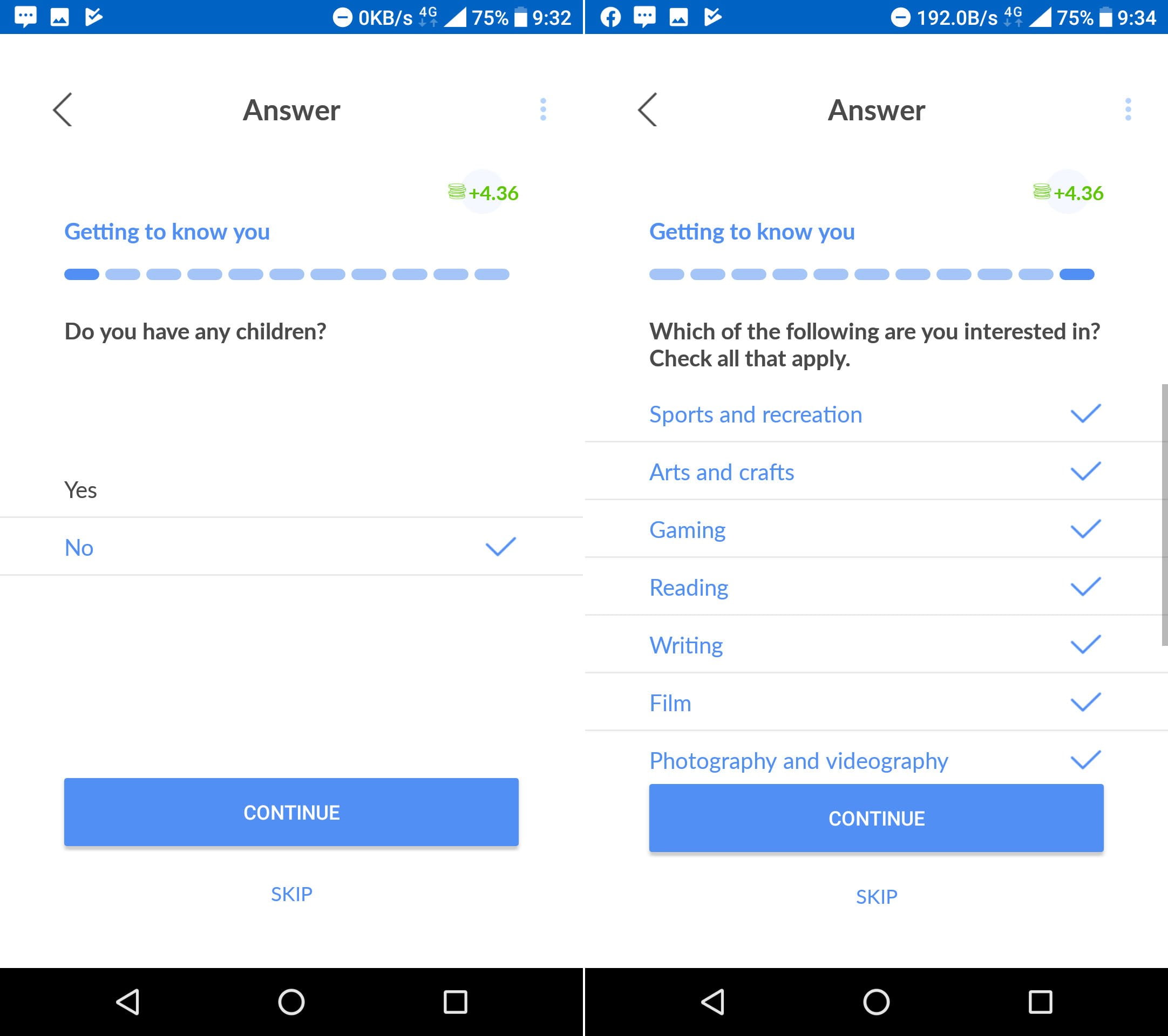 To finish setting up BIGtoken for personalized surveys, you also need to answer this getting to know you questions. You'll earn BIGtokens here after finishing this survey.
Step 16: BIGtoken dashboard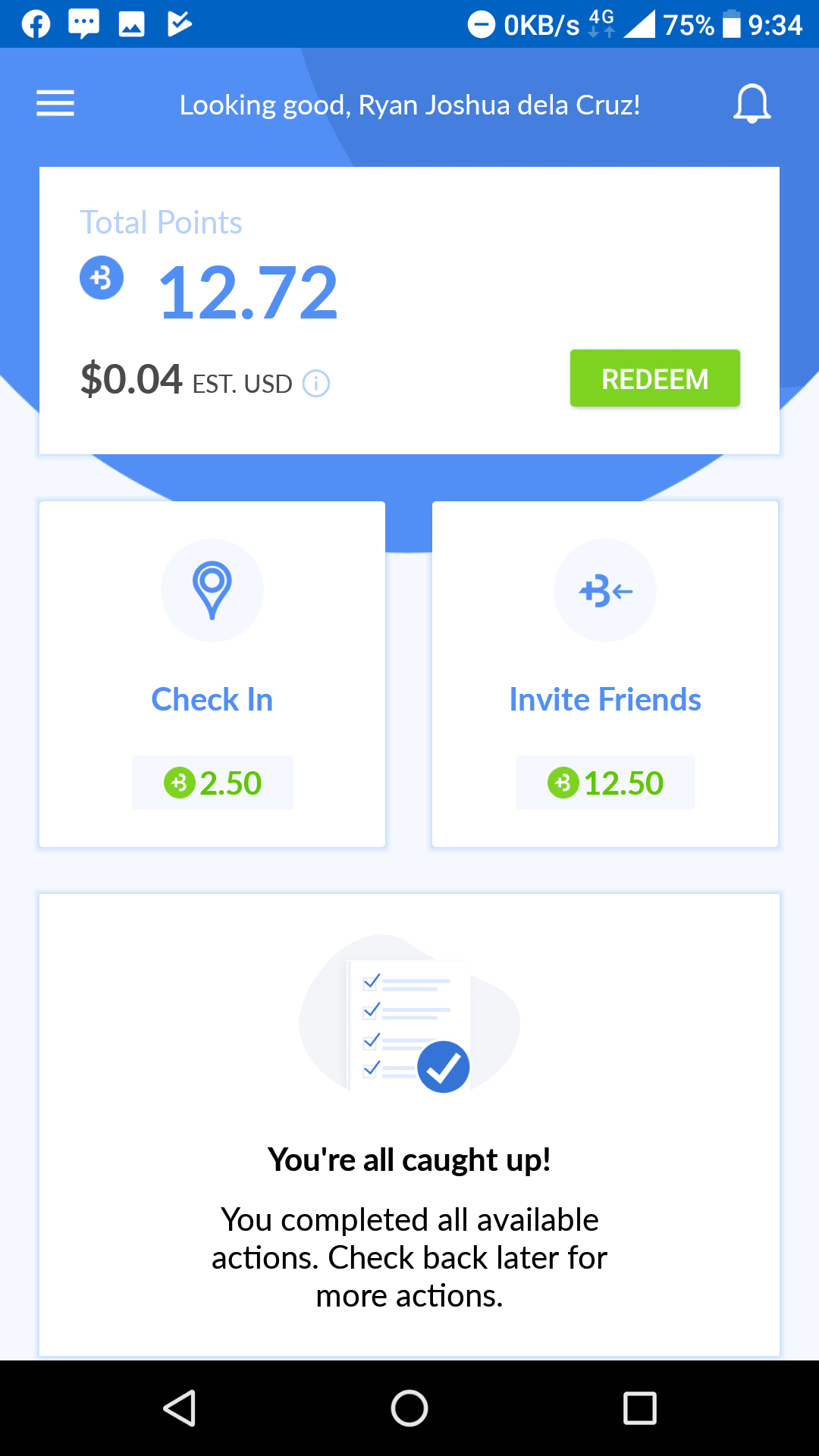 Lastly, the things you did on step 14 and 15 are the samples of what you will be doing here in BIGtoken to earn cash. In addition, you will answer surveys, check-in locations, invite friends (referral) and connect social platforms to earn more.
Additional actions will appear on the dashboard as time passes by. You may now close the app for now and check back later.
Some Questions about the BIGtoken App (before we tackle the BIGtoken review)
Here are the most common questions about BIGtoken.
Question 1: Is BIGtoken Safe To Use?
There have been no reported malware or security issues so far about BIGtoken. So to answer the question, YES, the BIGtoken app is safe to use.
In addition, you have the option to delete some of your inputted data in the app so you can control what you share with them.
In order for BIGtoken to protect your digital identity, they store your data in the cloud and use two levels of encryption for any personally identifiable information.
However, if you found out that the application has some kind of security-related breach, issues, or bugs. Please, immediately tell their team on their contact us form.
Question 2: Is BIGtoken Slow?
Bigtoken app is relatively slow compared to other applications and I believe they can improve load speed more as time goes by. This answer was based upon my opinion and might be different compared to others.
There are also some instances where the app glitches out and goes off when clicking on the dynamic options. But, this has been fixed on their latest version as I tested.
Question 3: How can you earn BIGtoken points?
There are a lot of ways to earn points in BIGtoken. By using the app, you can earn BIGtoken points by answering shopping-related and survey questions.
They also have a new update called Sponsored Actions and you can earn more BIGtoken points using it.
Jump To: BIGtoken Sponsored Actions
Question 4: How can you redeem BIGtoken points as cash?
Redeeming BIGtoken points to cash is easy. You just need to follow these simple steps.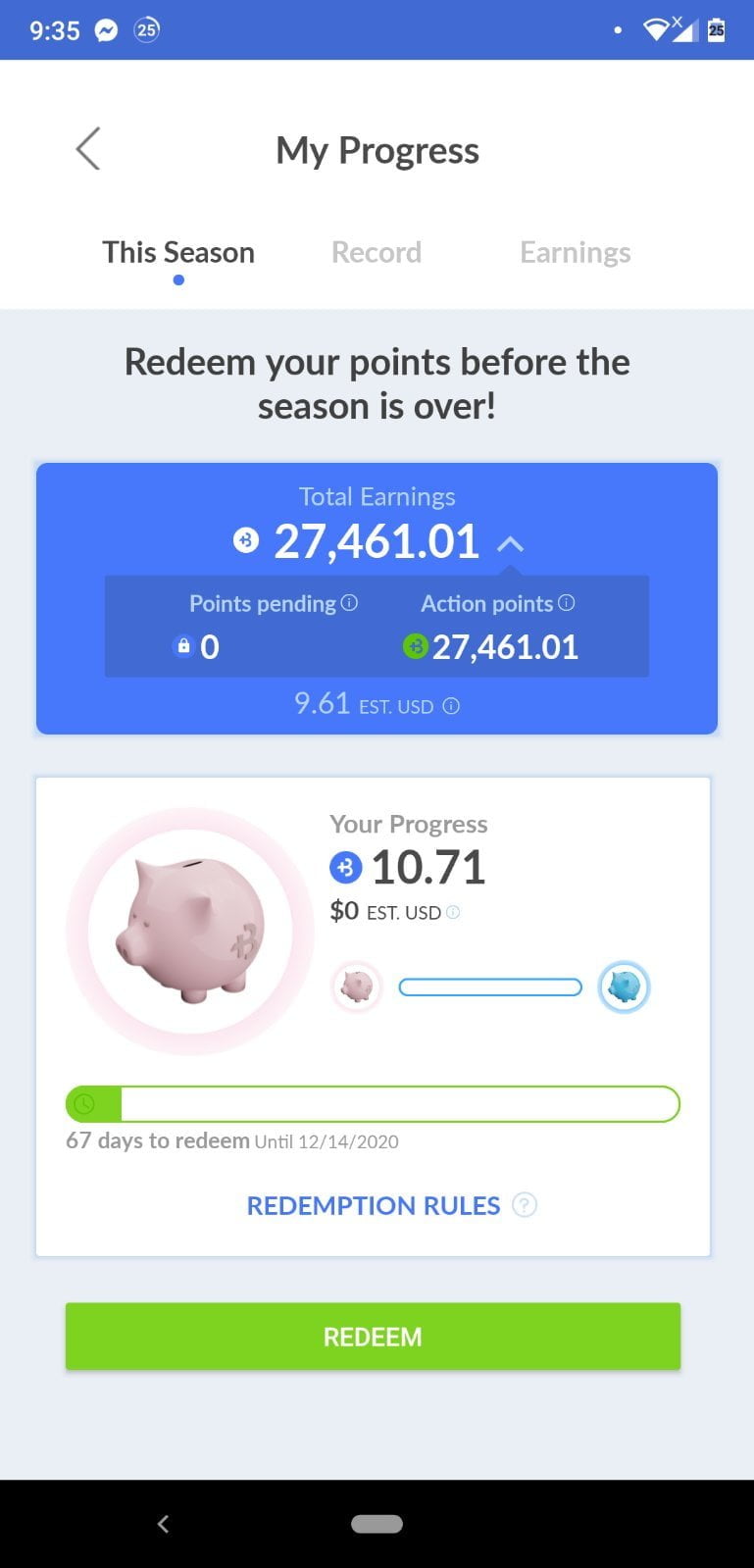 From the BIGtoken dashboard, click the "My Progress" button and click "REDEEM"
You must now be able to see an option on how you want to redeem your points, choose either cash or charity donations.
If you have chosen cash, you must be able to select a payment option in the current screen (Paypal is the only available payment option on the app as of now). However, if you selected charity donations, you will choose an organization where you want to donate your points.
Continuing cash option, on the next screen you must choose the amount of USD you want to redeem as cash (10 USD is the lowest option)
Afterwards, you must confirm your PayPal account and read the Terms & Conditions
Then, enter the email address associated with your PayPal account
Finally, submit the transaction
Question 5: How to invite friends in the BIGtoken App?
In the BIGtoken app dashboard, click on the menu and select the Invite Friends option. Afterwards, you can see on the next screen your Invite Code or invitation link that you can copy to share with friends. You can also send invites directly in the app by inputting your friends' email address.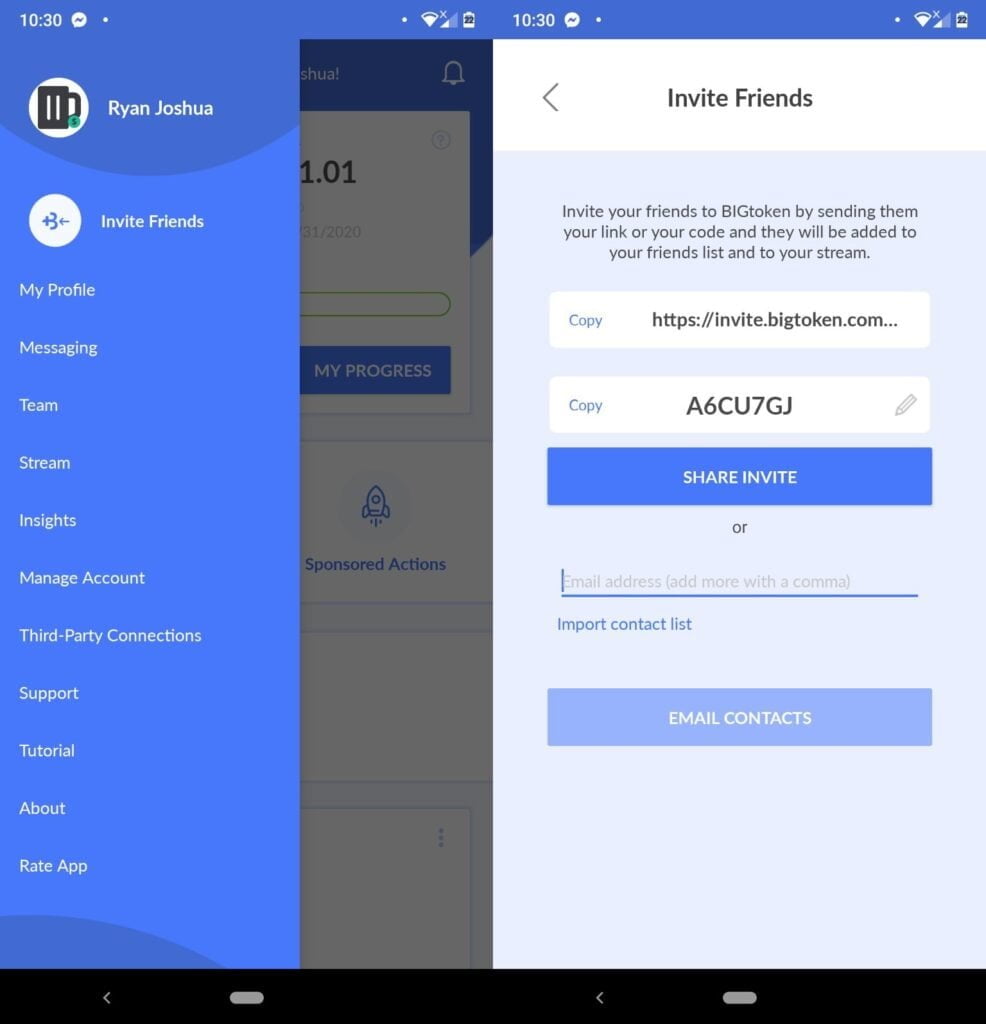 Question 6: How to create a custom BIGtoken referral code?
In the BIGtoken app menu, select the Invite Friends option (Like what we did in Question 5). Press the edit icon next to your current code. And finally, type in your new custom code and hit save.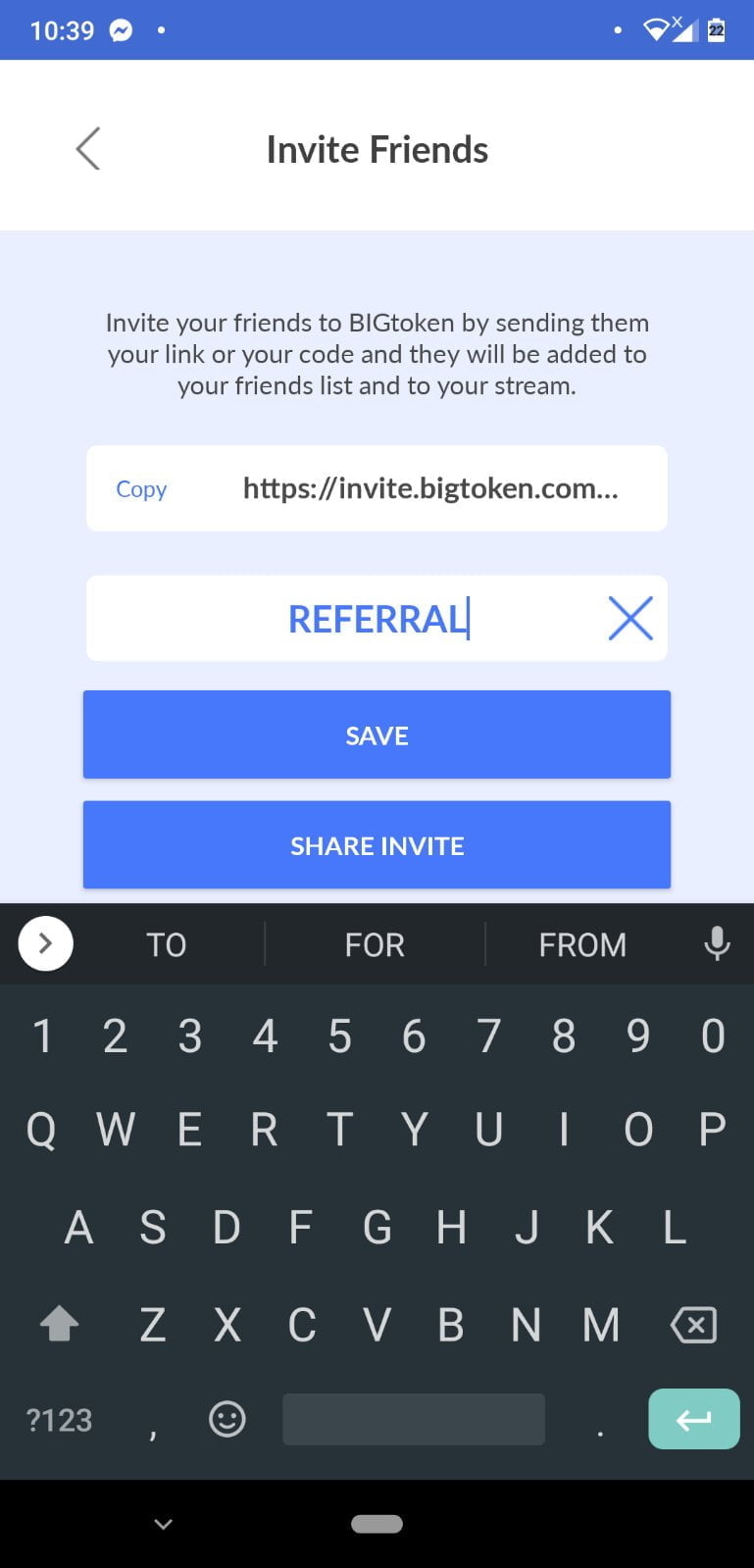 Question 7: How to update BIGtoken app?
Once in a while, the BIGtoken dev team updates the app to fix some bugs, to improve app performance, and to apply security patches when needed.
For you to be able to update in the latest version, you simply need to go to your phone's play store, search the BIGtoken app, and click update.
Question 8: Who are the current BIGtoken partners?
The current BIGtoken partners include Tide, Downy, Downy Unstopables, Bounce, Sun-Maid, and Sam's Club. BIGtoken continuously partners with other companies so you can see the list updated soon.
Question 9: Can I have multiple BIGtoken or associated PayPal accounts?
Unfortunately no. Every user can only make one BIGtoken account, and it can only be associated with one PayPal email address.
Question 10: How BIGtoken redemption request work?
All BIGtoken redemption requests undergo an account auditing procedure. This is to ensure that the requester has not displayed any signs of fraudulent activity.
If a fraudulent activity is found, BIGtoken has the right to decline any redemption requests from that user. The account audit usually takes up to 7 business days.
---
And that's it for the most common questions!
Do you have other questions about BIGtoken not mentioned here (before we move on to BIGtoken review)?
If there is, please comment down below or message us on our contact form. We will try to answer your BIGtoken query to the best that we can.
---
WORKING BIGTOKEN REFERRAL CODE
---
A6CU7GJ – here is my working BIGtoken referral code if you have none to add when you register. Please let me know if you need assistance and I'll be glad to help.
---
Introducing BIGtoken Update and New Awesome Feature For Extra Beermoney Earnings
Bigtoken recently launches a new update and feature in their app called Sponsored Actions.
Sponsored Actions is a new dashboard menu in the app where you can complete specific actions in exchange for Bigtoken rewards. These actions include installing an app, playing games, answering surveys, visiting websites, watching videos, and more.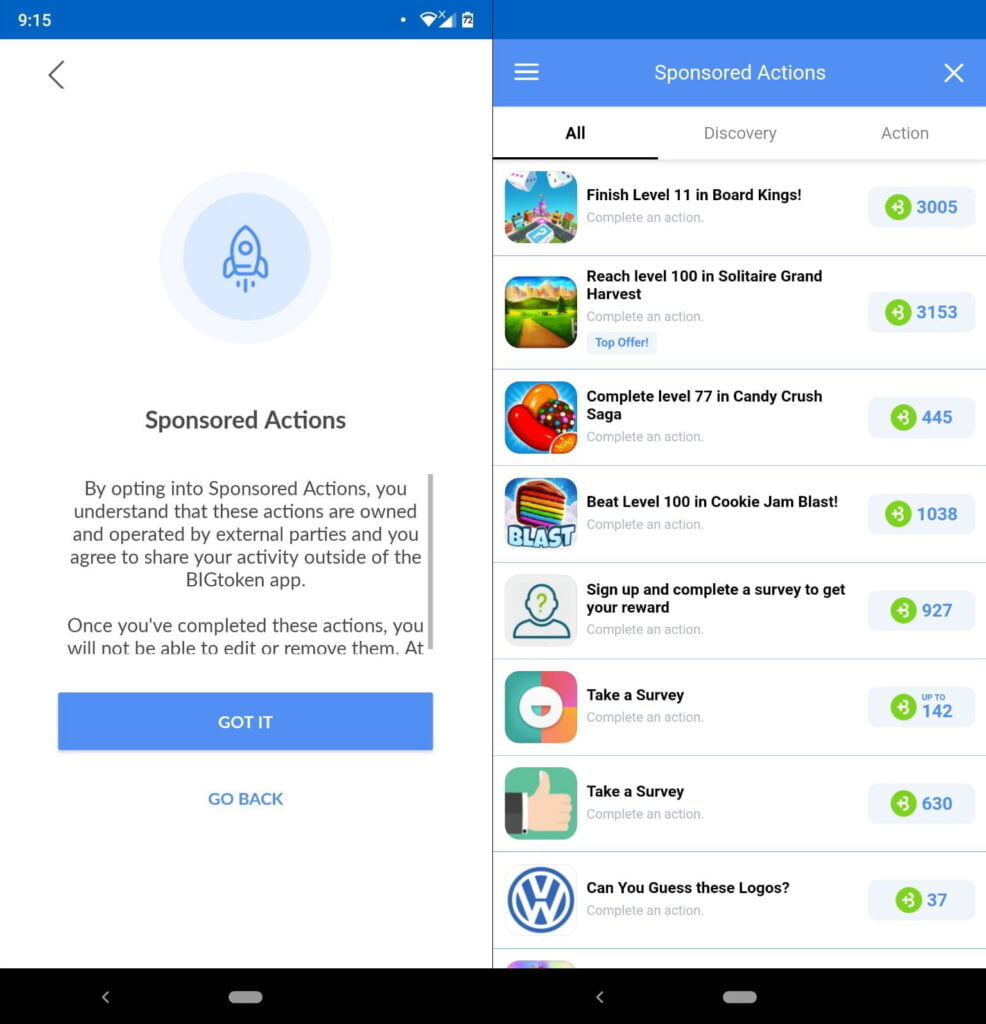 Through Bigtoken partners, users have more entertaining ways to earn BIGtoken points, which are redeemable for cash, gift cards, and charity donations.
---
Moving on let us now review BIGtoken. Is it legit or not?
The long wait is over, I presume this is the one you're really looking forward to right? Well, here goes.
BIGtoken is new and is still struggling to pay its users. That is a fact. According to a google play store review and BIGtoken team's response about them, BIGtoken is not yet selling consumer data so there is a 25% limit on your redeemable earnings (As of September 2019). Here, let me show you the app user review.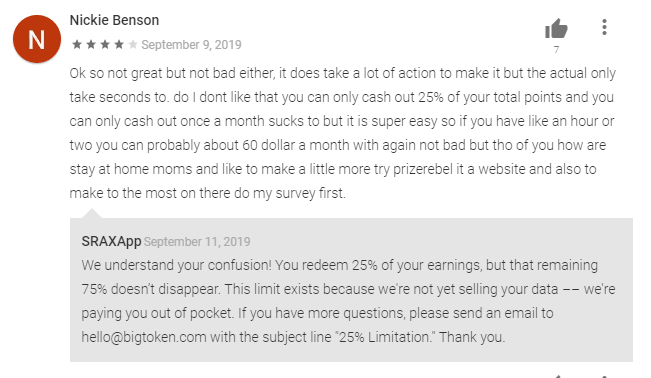 They emphasized that your 75% earnings is still in your account but not yet redeemable. There are also some issues about redeeming your earnings.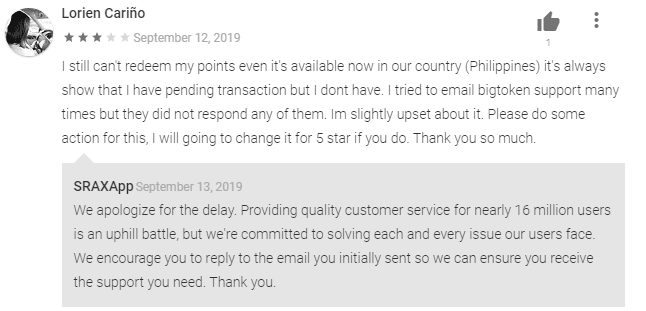 It seems that BIGtoken is really doing their best to solve these issues. For instance, they are very responsive answering user comments and are committed to BIGtoken's potential.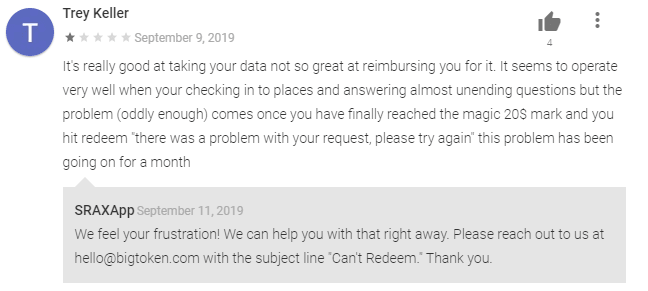 At least, they are not like some company doing auto-reply on reviews. They are ready to tackle issues and this somehow proves the legitimacy of this company. Moreover, the app and the website is constantly being updated by fixing bugs, improving UI, and solving user issues.
---
BIGTOKEN REVIEW VERDICT
---
BIGtoken is a legitimate and paying app. But although BIGtoken does pay as reported with payment proof online, you might get dissatisfied with how long it could take the process.
Take note that they are currently paying only 50% of your earnings per season because they haven't monetized your data yet.
In order to redeem your points as cash, you must have at least ~40000 points (~20 USD) in the BIGtoken app. In addition, you can only withdraw cash after 30 days of joining (for some user data first traction I guess).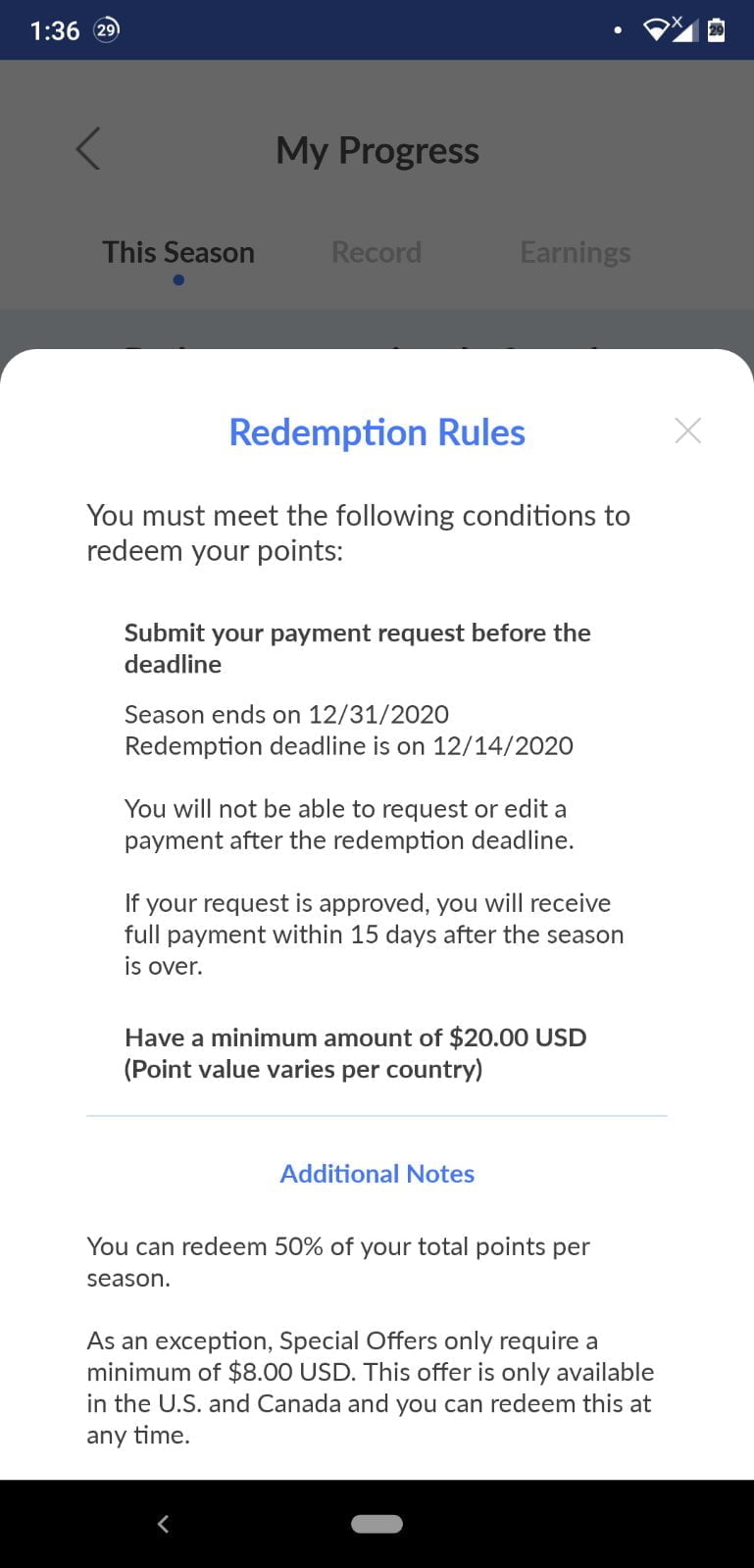 If you believe that BIGtoken has the potential to get big someday and earn some traction to advertisers who wanted to buy user data. Do install BIGtoken and earn compensation from data you have the control to share.
Otherwise, you can wait and hope BIGtoken updates their redeeming options (I will update this BIGtoken review and guide if that happens so check back).
---
Interested in earning cryptocurrency?
Do you want to earn cryptocurrency instead?
In that case, I have compiled the very best legit cryptocurrency faucets you can really trust that pays. The list was made carefully considering a lot of factors so rest assured that even the passage of time goes on these faucets are still running and paying.
But always be careful online and avoid scams, okay? Have a good day mate! I will now hit the bed, drink some beer, and call it a day. Yeah! That rhymes, I think.
So what are your thoughts? Have you enjoyed reading the "Best BIGtoken Review and Complete Guide: Legit or Not?"? If so, please comment down below.
It will surely encourage me to improve my content and to cover more beer money apps like this.
Please share this post with your friends, it might help them decide whether to use the BIGtoken app or not.
---
To know more about me check my about page. Moreover, to see more content like this check the homepage of my blog.
Cheers! :゚。( * ´ ◡ ` )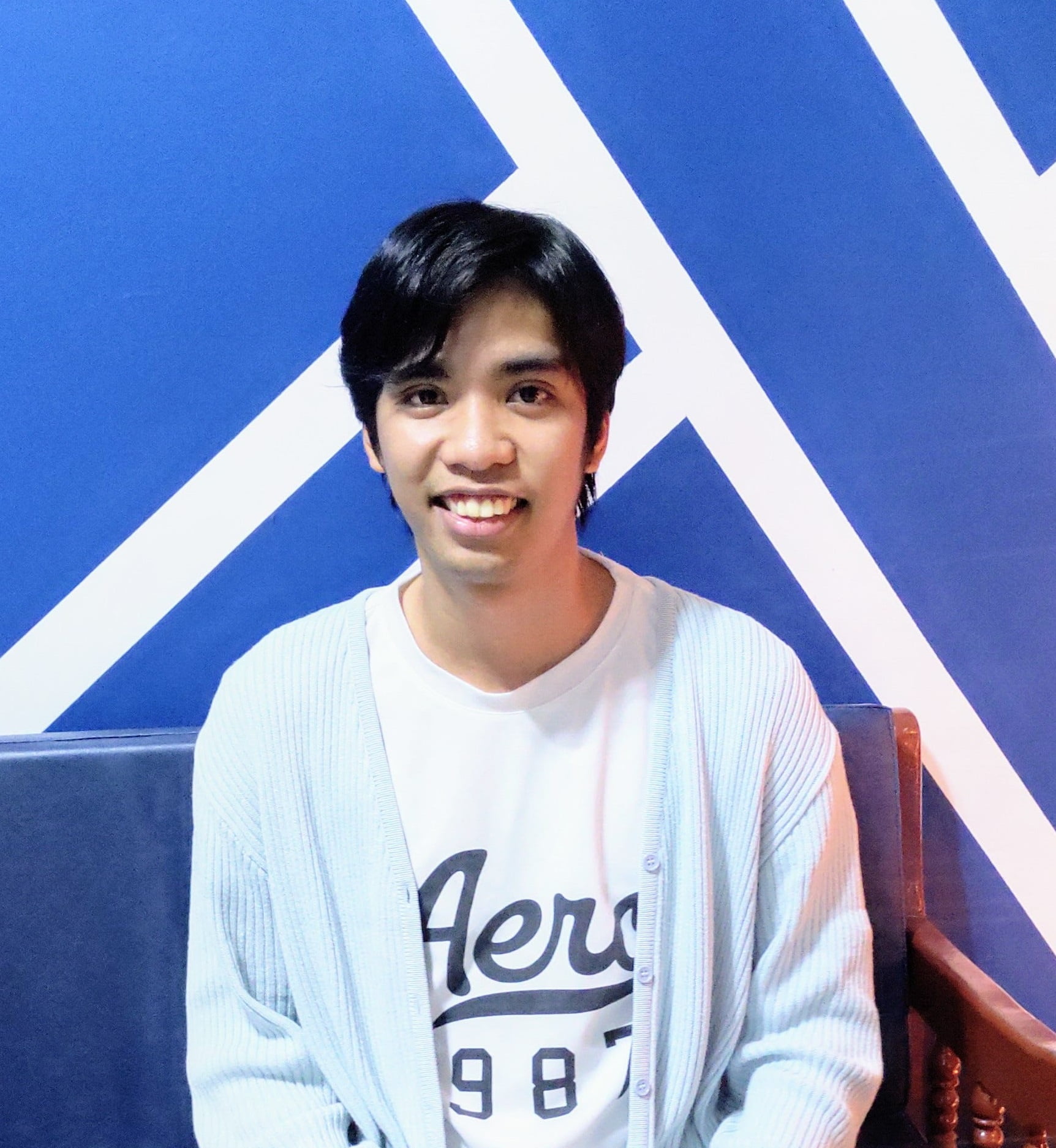 Chief Editor and Website Owner.
A software dude and the website owner of Money For My Beer. The site where the best people stories and legit money making online is compiled.