Best Legit Cryptocurrency Faucets You Can Trust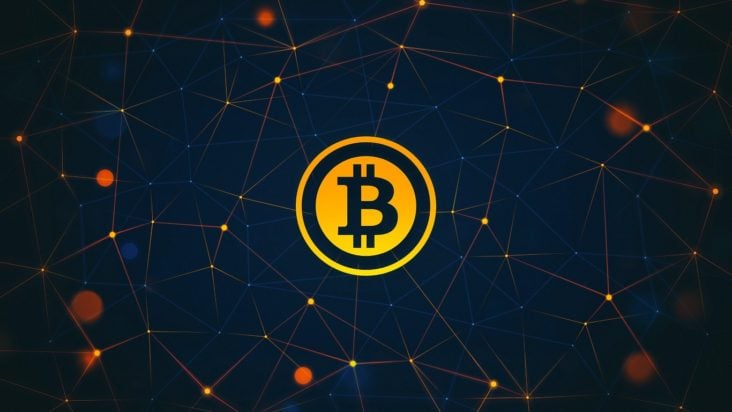 "Best cryptocurrency faucets", "legit bitcoin faucets", these are terms that hundreds of website claim they actually cover. And it's very hard to determine the authenticity of each one of them if it's legit and paying. Especially, if they recommend different kind of cryptocurrency faucets to use.
So, a solution!
I've tried to come up with a solution for this and from many articles, reviews, actual faucet usage and a month in the making of this post. I will therefore consolidate all of the best legit cryptocurrency faucets that we can trust, even after the passage of time goes.
Ugh sorry, what is Cryptocurrency?
To sum everything up, Cryptocurrency is a digital asset that works as a medium of exchange. There's a lot more into it but if you wanted to know more, check this very informative article about what cryptocurrency is of blockgeeks.com.
Hmm, and I think you will ask what are Cryptocurrency faucets right? Well, to put it simply, cryptocurrency faucets are reward system that dispenses amounts of "cryptocurrency" in exchange of viewing their site and ads, playing a game, watching a video and solving captchas.
Legit Cryptocurrency faucets, again?
These times are a hard time for trusting sites, you don't know which are legit, which are paying and which you can put your time on doing.
So in order to save your time, I will be your guide.
I've spent a lot of time doing research on different sites, only selecting those with high trust ratings and payment proofs. And have made a list of the best legit cryptocurrency faucets that pays.
Okay, I'm not trusting you but it won't hurt to see what you got, show me those "Best Legit Cryptocurrency Faucets" you're claiming!
Some websites compile cryptocurrency faucets but they have some magic on their sleeves. They insert referral link for every faucet they recommend so they could earn a percentage when you register and use those faucets.
I will not be adding my referral link to the main link, and will only put the official link of those faucets beside the faucet name.
But if you wanted to support me or just to say thanks for server maintenance, my referral link is available right after the end of each list (Sorry). If you use my referral link though you are my savior, some of it will go to the server and the latter for beer. Yey for beer! (*`▽´)_旦~~
Wait, will you be updating this list?
Yes, I'm registered and using all of the cryptocurrency faucets listed here so rest assured that I will be updating this list always for you guys.
Here is my post update timestamp, so just check here to know when this legit faucets list has been updated.
Last updated: September 25, 2020
Of course, I have the "Top 4 Best Legit Cryptocurrency Faucets" list
I've made up the very best of the best legit cryptocurrency faucets and here's my top 10.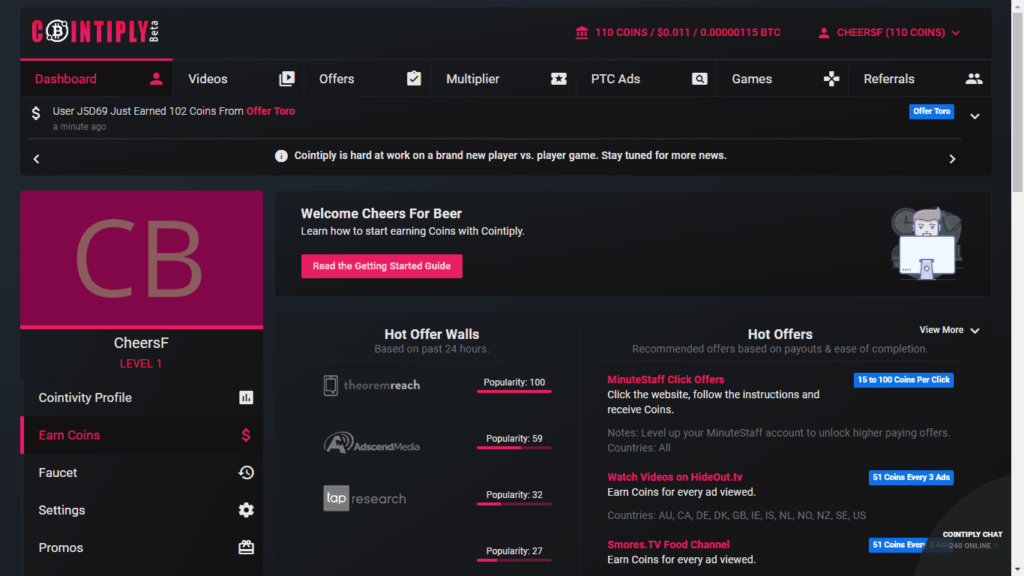 Yep, this is the best faucet for me. I fell in love with how sleek the user interface is and how easy it is to earn legit cryptocurrency. Cointiply pays in your Bitcoin Wallet, Faucethub wallet, and Doge wallet.
Cointiply pays out mainly by a free random roll. And if you're lucky enough and rolled a prime number, they'll give you a bonus. Moreover, you can earn another bonus for logging in and spinning the faucet every day.
Pros And Cons
| PROS | CONS |
| --- | --- |
| Sleek and simple user interface with few ads | Faucet claims reduced: mostly 1 per 12 hours, except premium countries (05/2019) |
| Lot's of ways to earn cryptocurrency | The mining game was canceled and with it months of time and coins investment for members (12/2018) |
| Loyalty bonus of 1% per day up to 100% for every day you make a claim | |
| Earn up to 100,000 coins with every spin | |
Faucet Features:
Daily Faucet – Receive free Coins every time you roll the faucet. Roll 99,999 and win the jackpot.
Complete surveys and offers, such as installing mobile apps, to earn thousands of Coins
Multiply your Coins up to 63x by playing the fun and addictive CointiPlay multiplier.
Earn Coins in the background by watching short video ads.
Earn Coins for quickly visiting websites.
Play games and view ads to earn Coins. Available to all countries, every day!
Earn Coins by referring other users to Cointiply. Earn up to 25% of your referrals earnings.
Deposit or save up 35,000 Coins and earn 5% Annual Interest
Withdrawal
The minimum DIRECT (to your Bitcoin wallet) withdrawal amount is 100,000 Coins.
FaucetHub minimum withdrawal amount is 35,000 coins.
Minimum withdrawal for DOGE is 50,000 coins.
My Referral Link – Thank You! (人 •͈ᴗ•͈)
If you want to support me, say thanks or help me pay for the server, use my Cointiply referral link – https://cointiply.com/r/43JQ8 to create an account.
I hope you decide to use my referral. I am very thankful for you if so, but if not you may use the main official link above without any referral to create an account to Cointiply.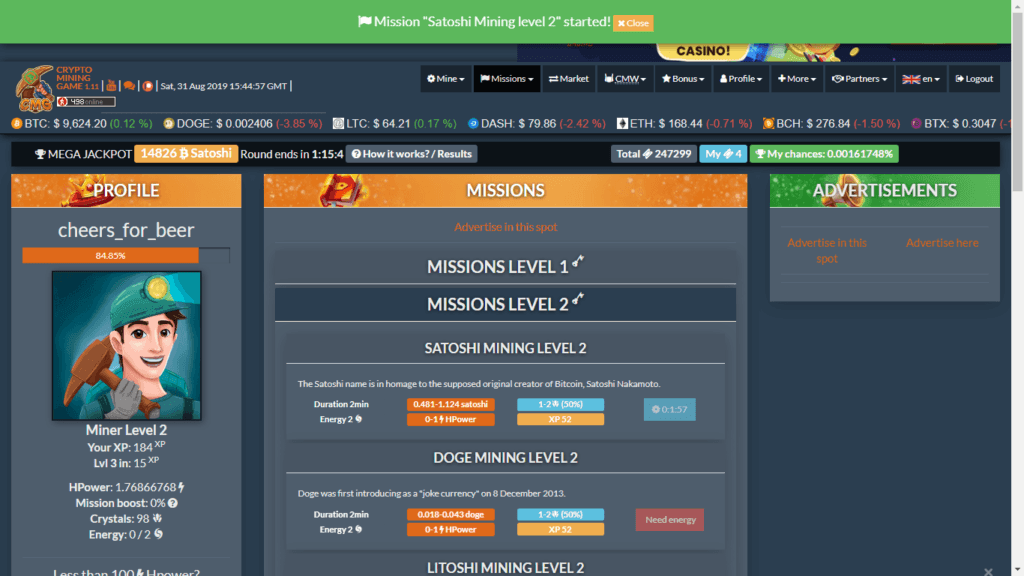 This cryptocurrency faucet has lots of partners and ads so I think the survivability of this one is strong.
Crypto Mining Game is a new kind of Cryptocurrency faucet where you can mine the game (Not CPU mining but a mining game simulation) and earn Satoshi, Litoshi, and Doge for real!
Pros And Cons
PROS
CONS
Referral – 8% of normal users and 0.5% of premium users
Slow to open
Daily loyalty bonus
Lot's of popup and ads – Workaround (Use adblocker)
Earn more in missions (originally 15 levels, the latest update brings you 20 mission levels. Includes dramatic changes in missions lengths, etc.)
Earn in quests, lottery and games
Faucet Features:
Mining – Simulate mining coin by spending crystals and hash power but earn it for real.
Missions – There are 20 levels of missions available, for each level you will get some satoshi, crystals, and hash power.
Bonus -You can get a daily loyalty bonus
Exchange – You can exchange cryptocurrencies i,e.., Satoshi to Doge and vice versa.
Crystals – Crystal is used in mining. Each time you click in a "mine" button, you will pay a number of Crystals depends on your level (level 1: 1 Crystal, level 2: 2 Crystals, level 3: 3 Crystals…)
Each Crystal used to MINE represents 10 minutes of mining. So, for example, at level 12, you will be able to mine for 120 min (2 hours) without interruptions.
Withdrawal
You need to reach level 10 to be able to withdraw
My Referral Link – Thank you! (*ˊᗜˋ*)/
If you wanted to help me, here's my crypto mining game referral link – https://cryptomininggame.com/?ref=e33b439cb360.
Clicking my referral will help me buy a beer but if you prefer to give me air (no worry guys oxygen is good) you may click the main link above with no referral.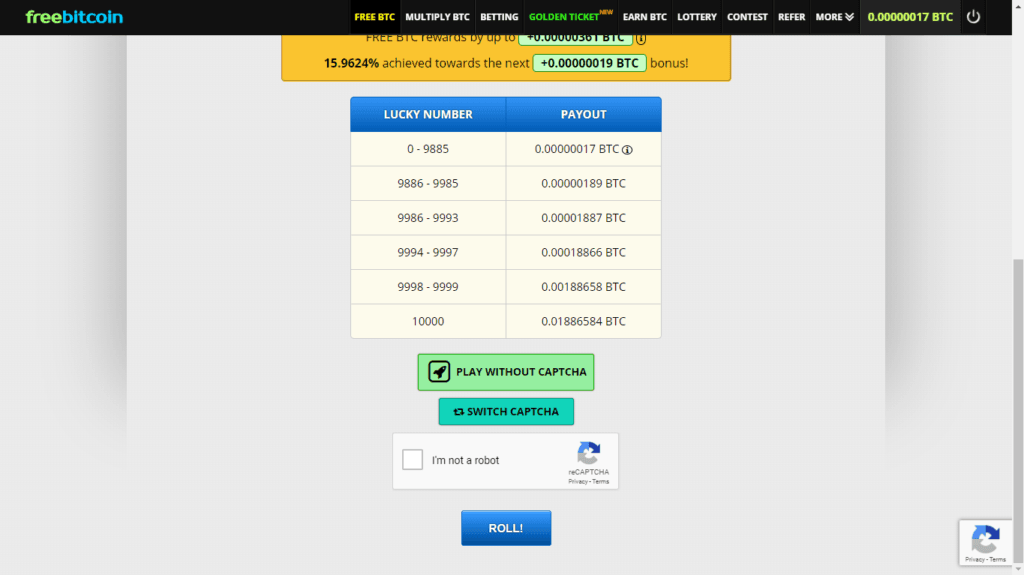 This is one of the oldest and legit paying cryptocurrency faucet. I'm sure some of you have encountered freebitcoin before.
Freebitcoin is a legit bitcoin faucet. There are many ways to earn satoshi here and they offer lots of rewards to loyal users. I've been using this for a long time, earning from the freeroll and losing money by playing the multiply BTC. (੭ ˃̣̣̥ ㅂ˂̣̣̥)੭ु Nevertheless, it's a legit paying faucet. It's just that sometimes the enemy is yourself tempted to earn more by betting.
Pros And Cons
PROS
CONS
Earn referral commission if the user you referred use the ff.
* Free BTC roll
* Multiply BTC
* when they earn interest
Small fee at withdraw
Reward points and free lottery ticket by using the faucet
You might lose money by betting and using multiply BTC
If you accumulated enough points you can redeem gadgets, hardware wallets and more
Chance to win big prizes like Lamborghini if you have a golden ticket
Faucet Features:
Free BTC – Earn free BTC by rolling the dice, have a chance to earn up to 0.01866568 BTC per roll
Multiply BTC – Multiply your bitcoins up to 4,750x by playing a PROVABLY FAIR HI-LO game!
Betting – Bet on the latest events against other FreeBitco.in users and win a share of the prize pool if you pick the winner!
Golden Ticket – A lucky winner will drive home a Lamborghini
Earn BTC – Receive compounded daily interest on any balance that you hold in your FreeBitco.in account, without doing anything – 4.08% Annual interest
Lottery – Participate in their weekly lottery draw and win big prizes
Contest – Participate in their monthly wagering and referral contest with $32,500 in total prizes!
Refer – Earn generous commissions by referring users to FreeBitco.in
Rewards – Redeem your reward points for some awesome prizes and bonuses
Withdrawal
There are three withdrawal options:
Auto – Frequency = Every Sunday; Transaction Fees = 0.00001109 BTC*
Slow – Time Taken = 6-24 Hours; Transaction Fees = 0.00001109 BTC
Instant – Time Taken = ~15 Minutes; Transaction Fees = 0.00004714 BTC
The minimum withdrawal amount is 0.00030000 BTC
My Referral Link – Thank you! ( 〃 ´◡` 〃 )
Helloヽ(*>∇<)ノ, I'm not forcing you or any but your help will come a long way. Here's my freebitcoin referral link – https://freebitco.in/?r=11166356, if you want to help.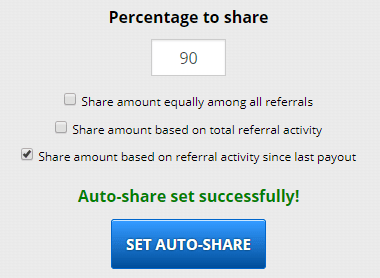 Btw, freebitcoin offers an auto-sharing percentage of referral commission so if you would be kind to use my referral I've set 90% auto-share for you guys, is 90% Ok, 10% for the server and beer?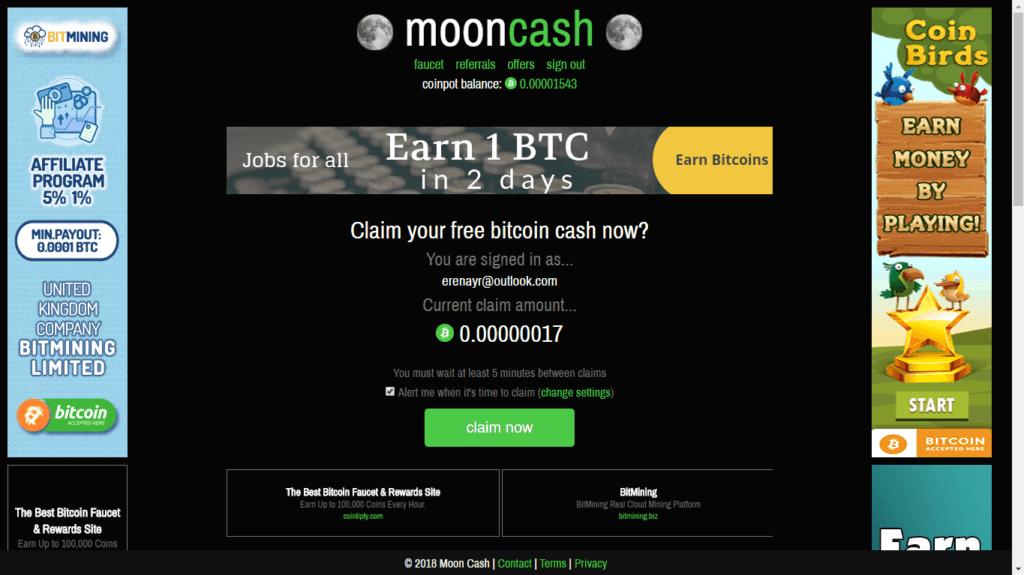 I like using mooncash, it's completely passive and you can earn by doing nothing overtime. The only downside for me is that it pays less than the 3 above I guess and the popup ads. Hmm, what's more?
Mooncash is a bitcoin cash faucet with a difference…You decide how often and when to claim!
Whereas most faucets only allow you to claim once per hour or once per day, they allow you to claim as often or as little as you like*
The faucet will gradually fill up – quite quickly initially but it will slow down over time – until you make a claim. So the longer you leave it the more you will be able to claim.
You may prefer to claim a smaller amount every 5 minutes, or visit once per day and claim the large amount that has built up while you were away!
(* minimum 5 minutes between claims per account/IP address)
Pros And Cons
PROS
CONS
Passive Income (Just don't forget to claim)
Lots of popup and ads
Receive 25% commission on all your referred friends faucet claims!
Earn even more by completing offers
Daily loyalty bonus and mystery bonus
Faucet Features:
Faucet – Earn free bitcoin cash by claiming faucet anytime (* You must wait at least 5 minutes between claims )
Increase your claim amounts by up to 300% by taking advantage of the Daily Loyalty Bonus, Referral Bonus, and Mystery Bonus schemes!
Referrals – Refer your friends, enemies, and everyone else to Moon Cash and receive a 25% lifetime commission on all their faucet claims!
Offers – Complete offers to earn more cryptocurrency.
My Referral Link – Thank You :゚。( * ´ ◡ ` )
I will be real grateful if you use my referral – http://moonbitcoin.cash/?ref=4B810DD6CA83 to register. I'm, still a struggling guy in terms of paying server costs so your help really means a lot. I hate forced referral signup as much as you do, you have a choice. You always have a choice. Have a good day!
Always be safe online
I doubled check the sites above as safe and legit but if you're still not trusting me after everything else. And you're still not sure about the safety of the crypto site you're dealing with. It's better if you will read this cryptocurrency safety article to be sure safe.
Have you heard about BIGtoken before? I have made a very complete guide and review about it. Check out the link to know if its legit or not.
---
To know more about me check my about page. Moreover, to see more content like this check the homepage of my blog.
Cheers!

Chief Editor and Website Owner
A software dude and the website owner of Money For My Beer. The site where the best people stories and legit money making online is compiled.