Travel Skincare Hacks: 7 Must-Try Tips To Maintain Your Skin On The Go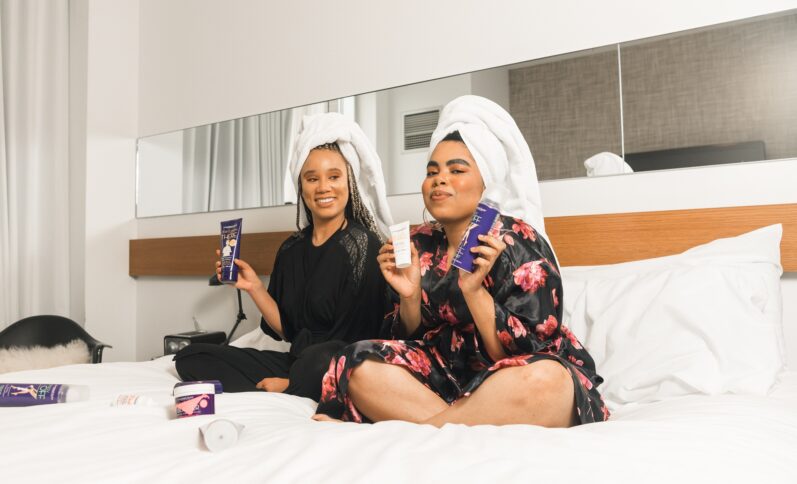 If you're planning to go on a trip, you must take note of the things to carry along while traveling. In a hurry, you might skip or forget skin essentialities which may ruin the travel fun. So go through this travel skincare hacks article so you may come prepared on your trip.
Why Looking After Skin Is Essential While Travelling?
Who doesn't love the excitement of traveling to new places? But while exploring the world can be exhilarating, it can also take a toll on our skin. When we're on the go, changes in air quality, water quality, and our diets can all affect our skin.
For starters, visiting a new city with high pollution levels can clog our skin and cause breakouts. Similarly, exposure to hard water while showering can strip our skin of its natural oils and cause dryness. And let's not forget about the irregular schedules that often come with traveling, which can throw off our skincare routine and lead to breakouts and dryness.
But don't let these factors deter you from taking care of your skin while exploring new destinations! With a little extra effort, you can keep your skin healthy and glowing throughout your travels. By prioritizing your skin's needs, you'll not only look better but also feel more confident and comfortable while immersing yourself in new cultures and experiences.
So, don't let traveling ruin your skin! Take the time to pack travel-sized versions of your favorite skincare essentials and stick to your routine as much as possible. Whether you're embarking on a weekend getaway or a month-long adventure, make sure to prioritize your skin's needs and enjoy every moment with a radiant complexion!
Travel Skincare Hacks To Consider While Travelling
There are specific ways to pamper your skin while traveling; you don't have to put resources into new healthy skin items. You can simply make a few changes in your daily practice and carry below skin essentials. Skim through this blog and know all skincare hacks to consider while traveling.
Carry Your Cleanser Without Fail
Face wash must be given a higher priority than your serums and other lotions. A regular cleansing ensures that by the day's end, your skin is free from dirt, pollutants, or extra grease. Messy skin always invites skin issues.
Never Skip Moisturizer
Don't be lazy to apply moisturizer. While traveling, your skin often gets dry and needs more hydrating elements. Moisturizers help skin cells to absorb hydration and keep your skin smooth. Moisturizers must be applied over the neck, hands, and legs; instead of only applying on the face.
A decent face lotion can balance your skin's wellbeing while traveling. It keeps your skin away from unwanted breakouts and skin problems. Keep in mind to saturate your skin before you load onto your flight. The humidity inside the flight is often responsible for dry skin and can harm your skin texture.
Know Substitutes Of Make-Up
One must try to ditch the use of cosmetics and makeup items while traveling. As beauty experts revealed, the chances of skin breakouts rise when you are on the go. In addition, wearing too much makeup would cause dryness and skin breakouts. To avoid such issues, one must use substitutes for makeup.
Women wear makeup to look flawless, and one can also make their skin flawless by using digital skincare tools. Radiofrequency facial tools are handy to carry in your travel bag and allow quick massage that will glow your skin.
Carry Sunscreen With High SPF
Ask skin experts which item they can't manage without, and they will definitely reveal the same mystery; a decent sunscreen. Sunscreen not only prevents sunburn but goes far in dealing with your skin and the manner in which it looks.
While you are on the go, use sunscreen with SPF 30 or above. You are protecting your skin against UVA/UVB radiation. Sun blocking is highly essential; it may cause severe skin problems over the long term.
Wandering without sunscreen is a foolish act. Protection against the sun by covering your head with a cap or hat, wearing full sleeves clothes, and so forth is not enough. You need to block sun radiation with sunscreen to save your skin from severe skin disorders.
Wet Wipes – Savior For Dry Skin
When you are unable to wash your face on a long journey, wet wipes act as saviors. You can utilize them anyplace anytime, whether it's a plane, train, bus, or any other vehicle, even when you're wandering at the seashore.
You should keep a pack of face wipes. Use it when your skin feels exhausted; simply wipe your face with one, and it will refresh and rejuvenate your skin. Ensure that you don't have to drag wipes on your face; it may cause irritation. Instead, gently pat it on your dry face.
Facial Mist For Instant Hydration
Face Mist is one of the best sources of skin hydration. It will awaken you directly with its lively fragrance, boost up your mood and energy for moments. In addition, face mist helps to soothe your skin instantly.
Hydrating face mist is an absolute necessity for every traveler, especially in colder environments. Regardless of whether you are on an end-of-the-week trip or an extended vacay, always remember to use face mist whenever required. When you spritz it all over, it moisturizes your skin.
Carry Your Favorite Lip Balm
Chapped or cracked lips are the most common and painful issue faced by travelers. Therefore, one must carry a decent lip balm that helps to keep skin soft and hydrated. In addition, you can carry tinted lip balms that can be used as blushers and eye shades for impressive looks.
Other Things To Consider
Apart from the above ways, there are few other things to consider for balancing skin health while traveling. So check out the same and try to keep it in mind when you are on the journey.
Drink more water: your body needs hydration more than your skin. Skin cells absorb water from the body. People tend to forget to drink enough water while wandering and face dehydration. If possible, skip drinking alcohol.
Get proper sleep: it's obvious that you won't get complete rest alike your home, but compromising sleep hours would worsen your wellbeing. Short naps while traveling would also help a lot.
Lower down the intake of caffeine while traveling.
Changes in skin products may also give harsh effects on the skin, so consider carrying products which you have already used before. Avoid using skin products offered in hotel services. Most of the hotels offer products like bathing soap, shampoo, moisturizer, etc. you must check before using such products; if they are suitable for your skin type or not.
The Bottom Line
The above article covered every minute detail for pampering your skin on the go. Follow the basic ways suggested in this travel skincare hacks article to restrain stress over your skin during the journey. Enjoy your trips to the fullest and live in your traveling moments.
Also Read: Most Iconic Places In Malta (Must-See Travel Spots)
---
Well, what do you think about the article?
Do you like what you have read about the "Travel Skincare Hacks: Must Try To Maintain Your skin On The Go" article? If so, please comment down below. We would love to hear your thoughts about these awesome skincare hacks.
To see more content like this check the travel section of Money For My Beer.

Riddhi Ganatra is an online marketing consultant and outreach expert who loves to write and review fashion and beauty products. She spent more than three years as content creator covering topics like online marketing, technology, motherhood, lifestyle, beauty, and more.