Inspired Opinions Review: Is it Legit or A Scam?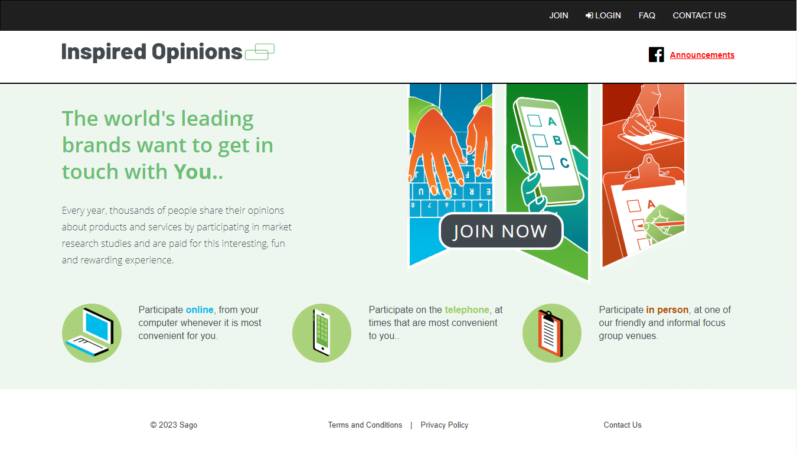 Earning money online has become increasingly important in modern times, providing an opportunity for individuals to boost their income while maintaining a flexible work schedule.
One intriguing and engaging method of earning money online is by participating in surveys and sharing your opinions.
Surveys are not only financially rewarding but also offer a way to contribute your insights to various industries and markets.
In this review, we'll delve into Inspired Opinions, a survey site that promises to reward users for their valuable feedback.
What is Inspired Opinions?
Inspired Opinions is an online network data collection platform and survey site that compensates users for sharing genuine data and feedback. This feedback is gathered through surveys and personal information.
The platform is owned by Sago, formerly known as the Schlesinger Group, a renowned market research company headquartered in the United States.
Similar to other survey sites, Inspired Opinions invites participants to express their opinions and provide feedback in exchange for various rewards.
While there are various ways to earn money on the platform, the available tasks are somewhat limited.
Getting Started
To join Inspired Opinions, you'll need to visit their website and locate the "Join" button. However, it's important to note that the site's eligibility criteria might not be immediately clear.
Currently, only residents of the USA seem to have access to the platform, which could potentially cause confusion for those eager to participate.
The registration process requires you to provide personal information such as your name, address, and email address. Additionally, you'll need to submit an official photo to validate your registration and membership.
After completing these steps, you'll receive an email with a verification link to access your dashboard.
How to Work on Inspired Opinions
Inspired Opinions offers a few different tasks for users to earn money. These tasks include:
1. Surveys
Surveys are the primary focus of Inspired Opinions. You can access available surveys from your dashboard, where you'll find two types: Profile Surveys and Rewards Surveys.
Profile Surveys – These surveys do not provide direct compensation but are crucial for building your profile. They help determine your demographics, interests, and knowledge, which can lead to more survey opportunities and increased earning potential.
Rewards Surveys – These are the paid surveys that offer actual earnings or rewards. However, you must qualify for these surveys by answering qualifying questions first. Failing the qualification test means you won't receive compensation, so it's important to explore other survey options.
2. Research Tasks
Research tasks and activities offer an alternative way to earn rewards on Inspired Opinions.
These tasks often involve various forms of research, including online research, location-based research, or in-person research.
While these tasks can be high-paying, they are relatively limited in frequency. It's advisable to take advantage of research activity invitations when they become available.
3. Referrals
Inspired Opinions also provides an opportunity to earn by referring friends or family members to the site. Users may only discover the rewards when their referrals successfully join the platform.
How Much Can You Earn from Inspired Opinions?
The earning potential on Inspired Opinions depends on several factors, including the number of survey opportunities you receive and your ability to qualify for surveys. Here are key points to consider:
Limited Opportunities – While the site may offer high rewards, the number of survey invitations may be limited. To increase your earning potential, it's crucial to complete profile surveys promptly to receive more survey invitations.
Qualification Matters – Qualifying for surveys is essential, as failing to meet the survey's criteria will result in no compensation. Be sure to answer qualifying questions accurately to maximize your chances of participating in surveys.
First-Come, First-Serve – Many surveys operate on a first-come, first-serve basis, meaning there's a cap on the number of participants. To ensure you can participate, respond promptly to survey invitations.
Minimum Payout and Payout Method
One advantage of Inspired Opinions is that it does not have a minimum payout threshold. This means you'll receive your earnings immediately, regardless of the amount earned.
However, there is a significant limitation: rewards are exclusively provided in the form of gift cards. Cash payments and alternative payout methods are not available.
Additionally, gift cards are typically delivered via postal mail to your registered address, which may take six to eight weeks.
Pros and Cons of Inspired Opinions
Pros
No Minimum Withdrawal Amount – Inspired Opinions offers the advantage of immediate payouts without a minimum withdrawal requirement.
High Reward Potential – The platform claims to offer high rewards, making it an appealing option for those who qualify for and complete surveys.
Cons
Gift Card Rewards – The primary drawback is that rewards are limited to gift cards. Cash payments and other payout methods are not supported.
Payment Processing Time – Users may need to wait for six to eight weeks to receive their rewards, which can be a considerable waiting period.
Limited Payment Options – Payments are determined based on earning potential, limiting flexibility in how users can access their rewards.
Inspired Opinion Review: Legit or Scam
Inspired Opinions is a popular survey site that claims users can earn up to $100 per survey. While there are both positive and negative aspects to consider, the site is generally considered legitimate. Here's a summary of the key points:
High Earning Potential -The platform offers the potential for substantial earnings through surveys, which can be attractive to users.
Gift Card Rewards – Users should be aware that rewards are exclusively provided in the form of gift cards, not cash.
Payment Processing Time – It may take up to one month to receive payments, which could be a consideration for those seeking immediate compensation.
In conclusion, Inspired Opinions is a legitimate survey platform that compensates its users, primarily through gift card rewards.
While there may be some limitations, including the waiting period for payments, it's worth considering for individuals comfortable with gift card rewards and who can be patient with the payout process.
Ultimately, it offers an opportunity to earn gift cards while sharing your valuable opinions and insights.
Also Read: Is Travelgo.com Legit or a Scam? An In-Depth TravelGo Review
---
So what are your thoughts?
Did you like what you have read about "Inspired Opinions Review: Is it Legit or A Scam?"? If so, please comment down below. Sharing your thoughts will encourage me to do better research and improve page content.
Moreover, to see more content like this check the review section of Money For My Beer.

Chief Editor and Website Owner
A software dude and the website owner of Money For My Beer. The site where the best people stories and legit money making online is compiled.