Exploring the History and Charm of Kapitangan, Paombong, Bulacan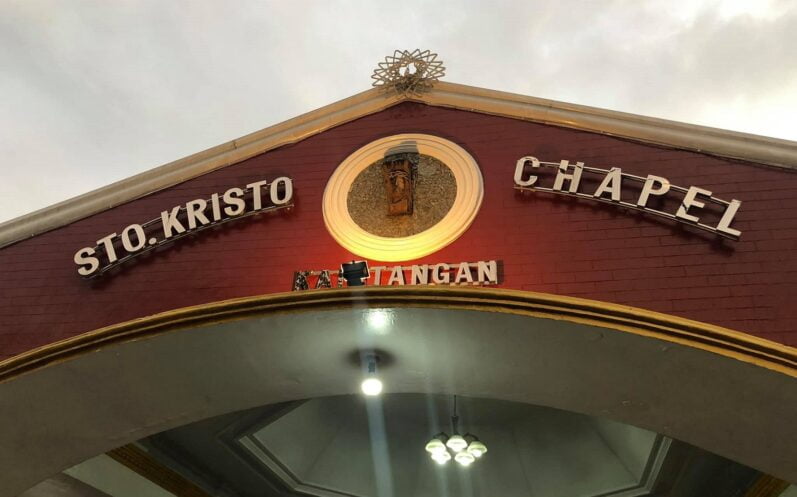 Welcome to Kapitangan, a charming barangay nestled in the heart of Paombong, Bulacan, Philippines.
Kapitangan comes from the Tagalog words "kapit," meaning "to hold on," and "tangan," meaning "to grasp," reflecting the residents' tenacity in holding onto their land despite foreign colonization.
It was previously covered in cogon grass and has a significant history dating back to the Spanish colonial era. Despite challenges, the community has shown resilience and perseverance.
In this article, we'll take a deep dive into the history, geography, economy, and culture of Kapitangan, and discover what makes this community so unique and special.
History of Kapitangan
Spanish Colonial Period and the Katipunan Movement
During the Spanish colonial period, residents of Kapitangan, like many Filipinos, fought against the colonizers. They joined the Katipunan movement, a secret revolutionary society founded by Andres Bonifacio in 1892.
The Katipunan aimed to overthrow Spanish colonial rule in the Philippines and establish an independent nation.
Many brave heroes from Bulacan, including those from Kapitangan, fought alongside the Katipuneros in the Philippine Revolution of 1896.
The Katipunan movement was driven by a desire for freedom and a deep sense of national identity among the Filipino people.
It mobilized the masses to rise up against the oppressive Spanish colonial regime, and ultimately paved the way for the Philippine Declaration of Independence on June 12, 1898.
The struggle for independence continued, however, as the Philippines was subsequently colonized by the United States, and it was not until July 4, 1946, that the country finally achieved full independence.
Start of Education in Kapitangan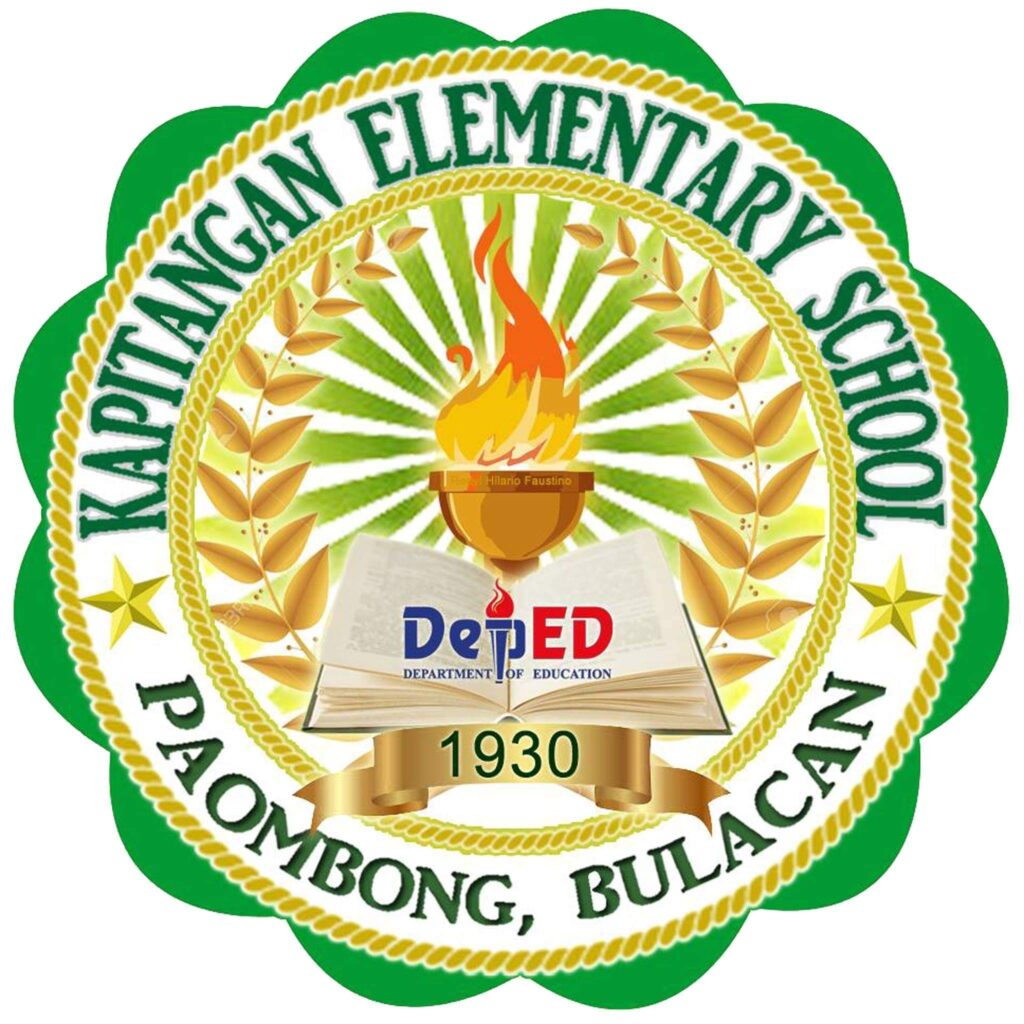 Kapitangan Elementary School (KES) was established in 1930 with just a few bamboo for floors and walls and nipa for the thatched roof.
At the time, the area was dominated by the Spanish, so the teaching methods were influenced by Spanish culture.
Along with the local language, Grade One students were taught the Spanish alphabet, while Grade Two focused on "Ciencia Heographia" and Mathematics.
Tuition fees were paid with half a sack of rice per semester as most of the students were children of farmers.
The first teacher did not have a formal education in the field but was chosen because of his knowledge. He was Mr. Emiterio "Apo Terio" Bantigue, the son of a former "Cabeza de Barangay."

In 1940, a building made of adobe and large wood was constructed, which became the first primary school. It was divided into two classrooms. One room served as an office, while the other was used as a storage room.
World War II and the Japanese Occupation
During World War II, the Philippines was occupied by the Japanese from 1942 to 1945.
The Japanese military used many public buildings, including schools, as their headquarters during this time. Kapitangan Elementary School was no exception.
The Japanese soldiers who occupied the school used it as their base of operations. They also used the school to teach their own language, Nihongo, to the local children.
This was done in an effort to promote Japanese culture and to suppress the use of Tagalog and Spanish, which were the usual mediums of instruction at the time.
The local people, who had already suffered greatly under the Japanese occupation, were forced to make do with whatever educational resources they could find.
After the war ended and the Philippines regained its independence, Kapitangan Elementary School resumed its normal operations, but the memories of the Japanese occupation lingered on in the community, including rumors of ghost sightings in the school building.
KES Paranormal Activity
Kapitangan Elementary School has a reputation for being haunted. There have been numerous reports of ghostly apparitions, strange noises, and unexplained phenomena on the school grounds.
Some of these stories date back to the Japanese occupation, when soldiers were said to have died in and around the school.
Despite these rumors, the school continues to operate and has a thriving student body. The paranormal activity has not stopped people from attending or working at the school, but it does add an extra layer of intrigue to the barangay's history.
Renovations and Modernization
Over the years, Kapitangan Elementary School has undergone many changes.
The school building has been renovated and expanded several times, with new facilities and equipment being added each time.
Today, the school has modern classrooms, computer labs, and other resources that would have been unimaginable in the early years of its existence.
Despite these changes, however, the school has remained true to its roots. It still serves as a vital community resource, providing education to local children and helping to shape the future of Kapitangan.
The Growth of Kapitangan as a Barangay
The construction of paved roads in the 1970s made Manila easily accessible, leading to daily commuting by many Kapitangan residents to the city.
The economic opportunities offered by the city, coupled with the decline in rice production, led to a shift in Kapitangan's economy.
The growing and selling of turf became a major source of income in Kapitangan in the following decades, and it remains an important part of the local economy to this day.
Despite the worsening economic conditions in the Philippines over the past few years, the province of Bulacan is considered to have prospered, and most Kapitangan residents regard themselves as neither particularly rich nor poor.
The people of Kapitangan have adapted to changing economic conditions over the years and have found new ways to support themselves and their families.
Pilgrimage Center and Miraculous Sto. Kristo
In addition to being a center of turf production and a commuter town, Kapitangan has been a well-known pilgrimage center since the turn of the century.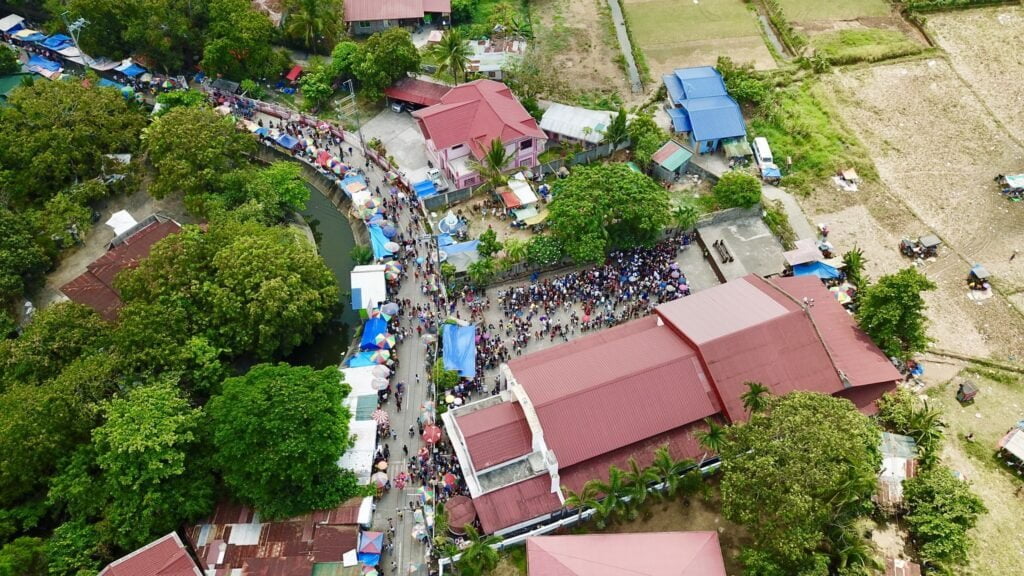 Kapitangan chapel houses a miraculous wooden figure of Christ (Sto. Kristo) that is venerated. The Santo Kristo has become a source of pride and inspiration for the people of Kapitangan.
Numerous accounts of miraculous healings are known, and many cases of dream apparitions of the Santo Kristo have been reported.
The annual "Kapitangan Fiesta" is held in honor of the Santo Kristo, and it is a time for the people of Kapitangan to come together and celebrate their community's rich history and culture.
Geography and Demographics
Location and Size
Kapitangan is a barangay located at 14.8642° N, 120.7884° E, in the central region of Luzon island, Philippines, and is one of the 14 barangays of Paombong municipality.
Kapitangan, Paombong, Bulacan – Google Map data © 2023
It is bordered by four municipalities: Calumpit to the north, Malolos to the east, Hagonoy to the west, and Paombong to the south.
Kapitangan covers a land area of 2.45 square kilometers (0.95 sq mi). It is located in the coastal plain of Bulacan, with the Angat River running along its western border. The elevation of Kapitangan is 7.1 meters (23.3 feet) above sea level.
Population and Livelihood
As of the 2020 Census, the population of Kapitangan was exactly 4708 people. Agriculture is the primary source of livelihood in the barangay, with vast rice fields and coconut plantations tended by many of the farmers.
Other crops grown in the barangay include vegetables, corn, mongo and sugarcane. Fishing is also a common activity among residents living near fish ponds.
Moreover, poultry-raising and love bird breeding is a popular hobby and commercial venture in the area.
Amenities and Services
Despite being a rural community, Kapitangan has modern amenities and services, such as schools, churches, and health centers.
The barangay has a public elementary school that provides education to the children of the community. The barangay also has a health center that offers basic medical services to its residents.
Language and Culture
The people of Kapitangan primarily speak Tagalog, with some residents (Although rare) also speaking the Kapampangan language.
The community is known for its warm and hospitable people who welcome visitors with open arms and the majority of the population is Roman Catholic.
Economy and Infrastructure
Kapitangan's Economy
The economy of Kapitangan heavily relies on agriculture, with rice and vegetables being the main crops grown in the area. The fertile land and favorable climate conditions make it an ideal location for agriculture.
Majority of the residents are engaged in farming and work on the rice paddies and vegetable farms. Additionally, fishing and poultry-raising are also popular livelihood activities in the barangay.
Small Businesses in Kapitangan
Kapitangan is a bustling barangay with a diverse range of small businesses and activities that contribute to its thriving local economy.
Farmers cultivate rice paddies and vegetable farms, while residents also run sari-sari stores, carinderias, welding shops, and vulcanizing shops. In addition, residents raise chickens and ducks for eggs and meat.
Kapitangan also offers landscaping services, including Bermuda grass planting and garden creation, barber shops, and love bird care and breeding.
These businesses and activities showcase the community's creativity, hard work, and entrepreneurial spirit.
Overall, Kapitangan is a community that provides ample opportunities for its residents to prosper.
Infrastructure in Kapitangan
Kapitangan has basic utilities such as electricity, water, and telephone services, which are crucial for the daily lives of the residents.
The barangay also has access to internet services, making communication and business transactions easier.
The public market is the center of trade in the area, where local products are sold and traded. A health center is also available, providing medical assistance to the residents.
Furthermore, a barangay hall serves as a venue for community gatherings and events.
These facilities provide essential services to the community and contribute to the overall development of the barangay.
Schools and Education
Education is an essential aspect of Kapitangan's community, and the area has various schools that cater to the learning needs of its residents.
Kapitangan Elementary School (as mentioned above) was the first school established in the barangay. It started with only bamboo floorings and thatched roof hut.
The first teacher, G. Emiterio "Apo Terio" Bantigue, was not a graduate of education but was chosen because of his minimal education.
The School ID of Kapitangan Elementary School is 104988.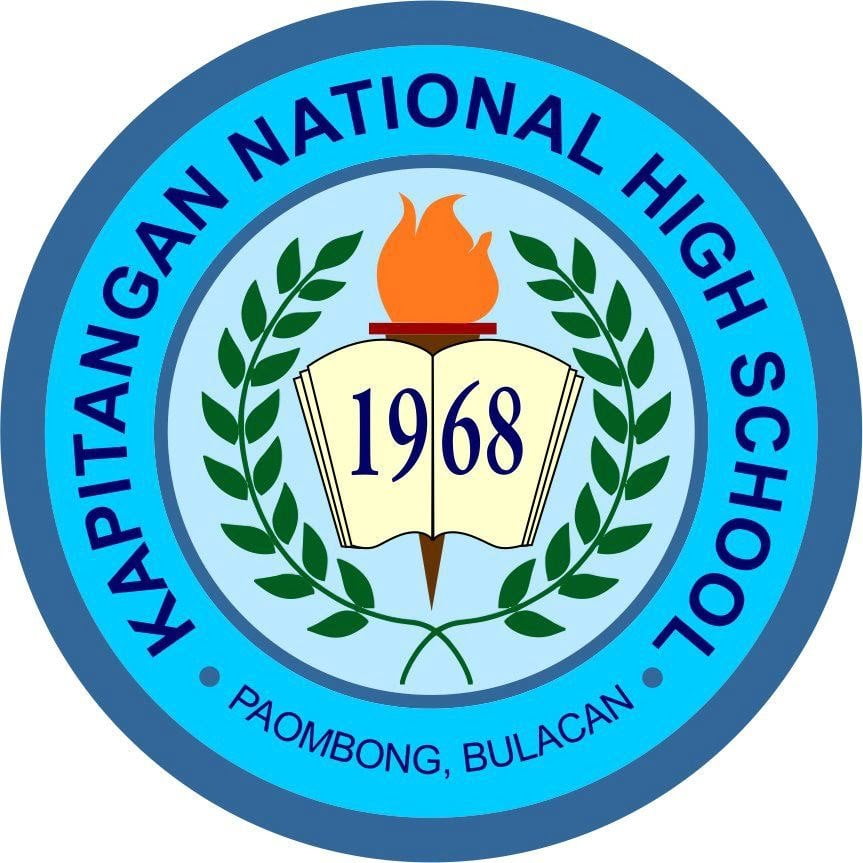 Kapitangan National High School (KNHS), on the other hand, was established on 1968, and is currently located at 082 Purok 3, Kapitangan, Paombong, Bulacan, 3001 near Kapitangan Elementary School.
The school offers programs from Grades 7 to 12 and aims to develop students holistically by providing quality education and opportunities for their talents and skills.
The School ID of Kapitangan National High School is 300744.
Both of them are schools in the municipality of Paombong, and province of Bulacan, III – Central Luzon, Philippines
Leisure and Recreation in Kapitangan
Kapitangan, despite being a small barangay, offers a variety of leisure and recreational activities that cater to the interests of its residents and visitors.
In addition, the barangay also embraces the spirit of camaraderie and healthy competition through its annual Kapitangan National High School Intramurals.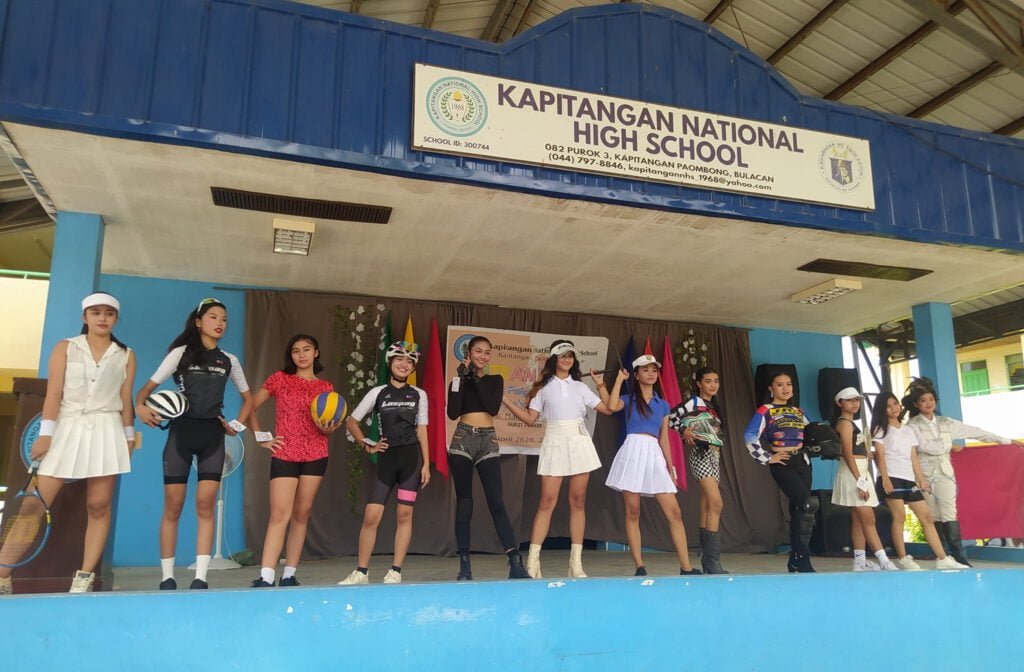 Whether you enjoy physical activities, mental stimulation, or traditional Filipino games, there is something for everyone in Kapitangan.
Physical Activities
For those who enjoy physical activities, the barangay has a basketball court near Kapitangan Chapel and inside Kapitangan National High School, where people can gather and enjoy playing basketball, a popular sport in the Philippines.
There are also several fish ponds and small rivers in the area, where fishing enthusiasts can bring their fishing gear and spend a relaxing day by the water.
Mental Stimulation
For those who prefer mental stimulation, playing board games such as chess and dama is a popular pastime in Kapitangan. These games can be played with friends or family members and are a great way to socialize while keeping the mind active.
Traditional Filipino Games
Kapitangan is a community center that offers a variety of activities for people of all ages.
In addition, Kapitangan also preserves traditional Filipino games that promote physical activity, teamwork, and socialization among children.
Some of the most popular traditional Filipino games at Kapitangan include:
Luksong tinik (Jumping over thorns): The game involves players sitting on the ground and other players jumping over parts of their body. It is a great way to improve balance and coordination.
Palosebo (Slippery pole climbing): This game involves climbing a greased pole to reach a prize at the top. It is a test of strength, agility, and determination.
Patintero (Tag): This game is played by two teams who try to tag each other's players without being tagged themselves. It is a great way to improve speed and agility.
Luksong baka (Jumping over a cow): This game is played by two teams who try to jump over a one another without touching any body part. It is a great way to improve coordination and jumping skills.
Tumbang preso (Knocking down the prisoner): This game is played by two teams who try to knock down a tin can with a ball or slippers. It is a great way to improve accuracy and hand-eye coordination.
Turumpo (Spinning top): This game is played by spinning a top on the ground and trying to keep it upright. It is a great way to improve hand-eye coordination and concentration.
These games are a great way to keep children active and engaged in their community. They also teach children important life skills such as teamwork, cooperation, and sportsmanship.
If you are looking for a fun and educational activity for your children, be sure to check out Kapitangan's traditional Filipino games.
Tourism and Attractions
Natural Attractions and Scenic Spots
Kapitangan is a picturesque destination with stunning natural beauty and a relaxed atmosphere.
The flat and wide roads of Kapitangan make it an ideal destination for cyclists and bike enthusiasts. The scenic landscapes of Kapitangan provide a relaxing and refreshing experience for tourists and locals alike.
Kapitangan is also home to a number of popular resorts, offering amenities like swimming pools, spacious rooms, and lush gardens. Some of the most popular resorts in Kapitangan include:
One Jandy Villas
Lola Leonila's Resort and Pavilion
Casablanca Leisure Home
Elciana Private Resort
Casa Madera Venue & Resort
Balai Bautista
Dongskie Private Pool/Resort
Evine's Resort
These resorts are all located in the beautiful town of Kapitangan. Whether you're looking for a romantic getaway or a family-friendly vacation, you're sure to find the perfect resort in Kapitangan.
Historical Sites
Aside from its natural attractions, Kapitangan is also home to several historical sites that showcase the rich history of the barangay.
The Sto. Kristo Chapel (Also called Kapitangan Chapel or Kapitangan Church), located at the heart of Kapitangan, is a historical landmark that dates back to 1875.
The chapel has undergone several renovations over the years but still maintains its original structure and design.
The chapel serves as a testament to the barangay's rich cultural heritage and is a must-visit for history enthusiasts.
Festivals and Events
Kapitangan is a barangay that never fails to entertain its visitors with its rich culture and traditions.
From colorful processions to lively celebrations, there's always something happening in this vibrant community. Here are some of the most exciting events that Kapitangan has to offer:
Barangay Fiesta: Honoring Santo Kristo
During the Barangay Fiesta celebrated every last Sunday of April, the community honors its patron saint, Santo Kristo. This is a time for merrymaking, socialization, and religious devotion.
Locals and tourists come together to witness the vibrant processions and lively celebrations that are reminiscent of the Santacruzan. This fiesta is the perfect time to experience the colorful and vibrant culture of Kapitangan.
Other Festivals and Celebrations
But the fun and festivities don't stop there. The Feast of the Black Nazarene in January and the Flores de Mayo in May are also celebrated with grandeur and flair. During the Christmas season, the entire barangay lights up with colorful lights and decorations, adding to the already festive atmosphere.
Holy Week and the Senakulo
If you happen to be visiting Kapitangan during Holy Week, you'll be in for a unique experience. One of the most unique and intriguing events is the Senakulo, a dramatic and solemn reenactment of the life and passion of Jesus Christ.
The Bloodiest Senakulo of Kapitangan
Located in the province of Bulacan, Kapitangan is a barangay known throughout the Philippines for hosting one of the most intense and dramatic Senakulo performances during Holy Week, specifically on Good Friday.
This public reenactment of the Passion of Jesus Christ draws significant attention due to its reputation for being one of the bloodiest and most fervent displays of religious devotion in the country.
Since its inception in 1977, the penitential spectacle has attracted numerous believers and visitors who come to witness the deeply moving and emotionally charged portrayal of Christ's suffering.
The Miraculous Santo Kristo and Healing Traditions
Within Kapitangan Chapel, the local residents hold strong beliefs regarding the miraculous powers of the ancient image of the Santo Kristo, or Crucified Christ.
The image is enshrined in the Santo Kristo Catholic chapel, and every Holy Wednesday, it undergoes a ritual bathing in oil. The oil is then distributed freely to pilgrims, who fervently seek its healing properties.
The Santo Kristo is revered locally as the patron saint of healers, drawing individuals who hope to receive divine healing through their devotion to this sacred figure.
Male Penitents: Acts of Penance and Faith
During Holy Week in Kapitangan, male penitents engage in acts of extreme devotion and sacrifice. Some fulfill a panata, a vow, as an act of atonement for their sins or in gratitude for granted favors.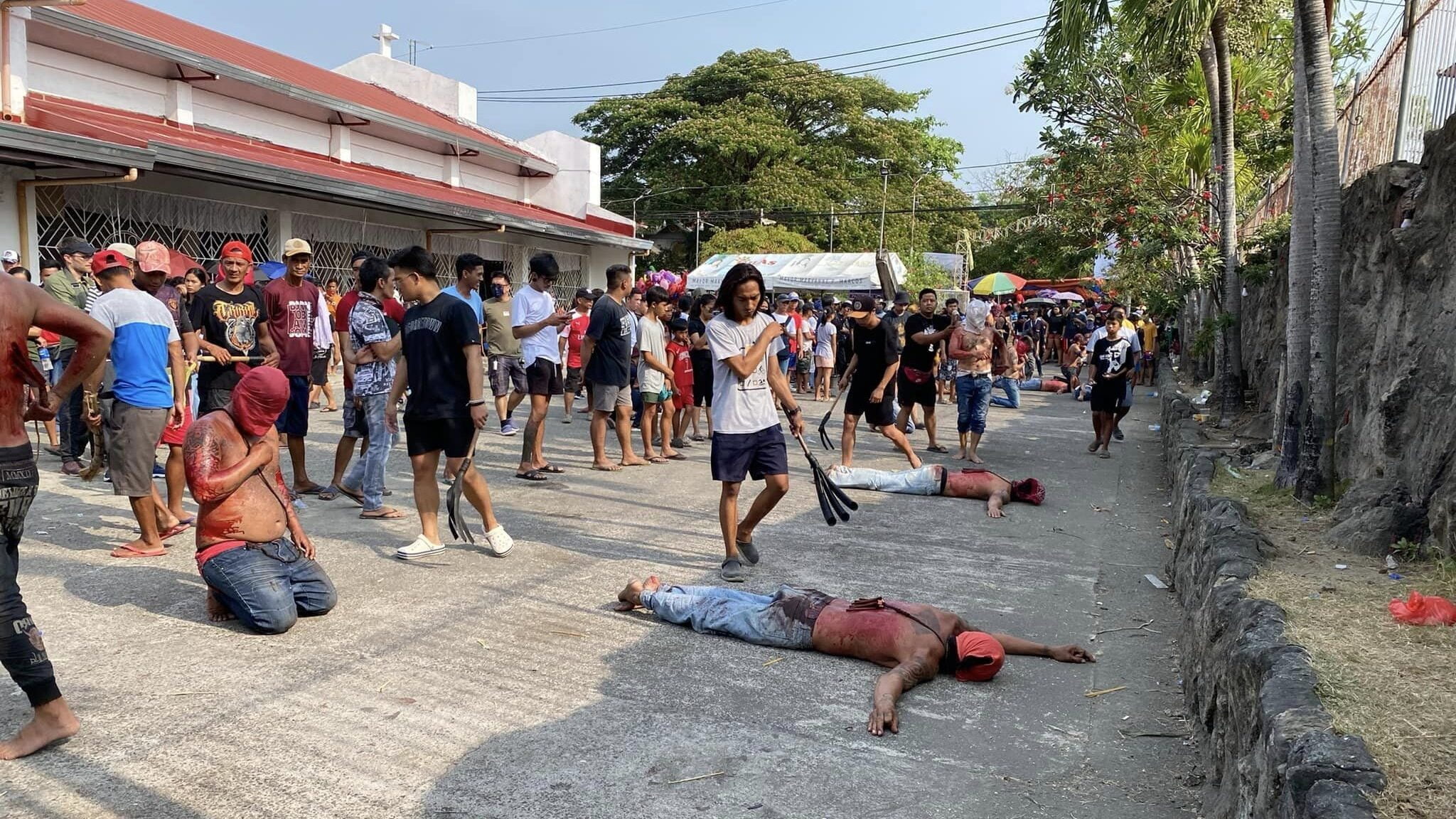 Others claim to have been called by God to endure the suffering in exchange for the divine power of healing. These penitents undergo grueling rituals, such as self-flagellation, using whips made of sticks, resulting in bloody wounds on their backs.
Additionally, some volunteer penitents willingly offer themselves to be crucified, although not to the point of death.
While the church discourages the most extreme practices, these crucifixions take place outside the Santo Kristo Catholic chapel, where the miraculous crucifix is housed.
The Harrowing Crucifixion Ritual
A visit to Kapitangan Chapel during Holy Week unveils a poignant and unsettling sight. Penitents designated for crucifixion endure physical and emotional challenges in their commitment to their faith.
Carrying a wooden cross on their bare shoulders under the scorching sun, they reenact Jesus' journey to Calvary.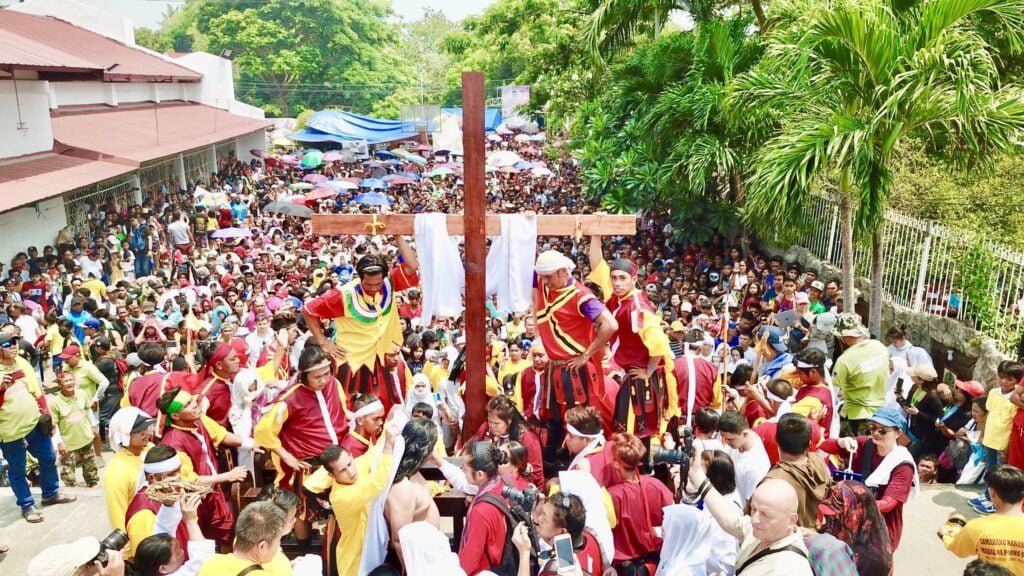 Upon reaching the "Calvary," a concrete platform behind the chapel, the penitents are meticulously nailed to a towering wooden cross, reminiscent of the crucifixion of Jesus.
The experience involves piercing their hands with four-inch-long nails soaked in oil and alcohol, and driving a five-inch-long spike through their feet.
Though precautions are taken to ensure their survival, the pain and suffering they endure during this ritual are undoubtedly real.
Chanting the Passion: A Ritual of Remembrance
Accompanying the crucifixion rituals is the solemn and emotional chanting of the Pasyon, the narrative of Jesus Christ's suffering.
A group of Mambabasa, skilled chanters, lead the recitation of the Pasyon as each penitent is hoisted on the cross. This intense vocal performance adds to the deeply spiritual atmosphere, evoking a sense of reverence and reflection among the spectators.
The penitents themselves often succumb to excruciating pain, intense heat, and dehydration, sometimes losing consciousness during the process.
Following the lowering of the cross, the nails are removed using vise-grips, and the penitents are brought inside the church to rest and engage in prayer.
Street Food Galore
And if you're worried about getting hungry, don't be. In front of the chapel, there are plenty of street food vendors selling various delicacies.
It's a feast for the senses, and your taste buds will thank you for the experience. For as low as 20 pesos, you can fill your stomach with a variety of delectable options.
The vendors sell a wide range of snacks and treats, including savory kwek-kwek, crispy okoy, buchi-buchi, karyoka, burgers, footlongs, and fries.
There are also delicious rice cakes like suman and sapin-sapin. Those with a sweet tooth can enjoy cotton candy, popcorn, and turon for dessert. If you want something healthy, boiled sweet potatoes and peanuts are also available.
Many of the stalls open as early as 3:00 AM, and some have already sold out by midday due to the high demand. More vendors are expected as Lent approaches, so there will be even more options to choose from.
You can easily get overwhelmed by the vast selection of food available for Holy Week.
Besides the popular choices mentioned above, you can also find chicken pops (locally known as proven), balut, fried isaw, fried atay, gulaman, and lumpia. The vinegar dip that comes with the fried liver and isaw is particularly delicious.
With so many delectable treats, you won't have to worry about getting hungry while visiting Kapitangan. So come and experience the unique Holy Week tradition and indulge in the street food galore!
Explore Kapitangan All Year Round
So whether you're interested in history, culture, or just looking for a place to satisfy your appetite, Kapitangan is a barangay that's worth exploring all year round.
With its rich traditions and lively events, there's always something new to discover in this vibrant community.
Conclusion
In conclusion, Kapitangan may be small in size, but it has a big heart and a rich tapestry of history that will leave you in awe.
Its story is one of resilience and progress, with its community embracing change while preserving its cultural heritage.
With its stunning scenery, friendly locals, and fascinating past, Kapitangan is more than just a barangay – it is a testament to the enduring spirit of the Filipino people.
So why not add Kapitangan to your list of must-visit places and experience its charm and beauty for yourself? Trust us, you won't regret it!
Also Read: Duck Feed – Meeting the Nutritional Needs of Your Flock
---
I hope you enjoyed reading about "Exploring the History and Charm of Kapitangan, Paombong, Bulacan"! What was your favorite part of the article?
Any thoughts or questions about this wonderful place? We would love to hear from you in the comments below.
To see more content like this check the travel section of Money For My Beer.

Chief Editor and Website Owner
A software dude and the website owner of Money For My Beer. The site where the best people stories and legit money making online is compiled.